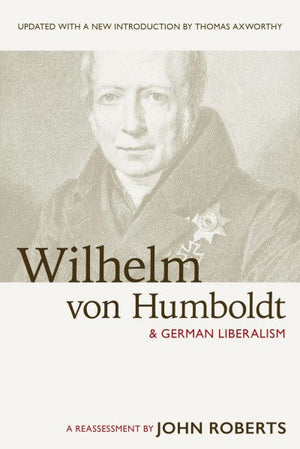 Dr. Thomas S. Axworthy
Wilhelm von Humboldt and German Liberalism
The newly revised edition of Wilhelm von Humboldt and German Liberalism offers a unique and thoughtful look at one of the most remarkable individuals in late 18th and early 19th century German history and explores the foundations of liberalism in the country. Called the "greatest statesmen of Europe" by Madame de Stael, Wilhlem von Humboldt was a poet, classicist, translator and an author of books on history, political theory, diplomacy and several other topics.
John Roberts' book is based on a complete and thorough read- ing of von Humboldt's writings and biography. The focus is to reassess the origins and particular nature of his writings in the context of an understanding of contemporary liberalism and liberal theory. Thomas Axworthy provides a new introduction to this revised edition that reevaluates Roberts' work and its connections to contemporary liberalism.
John Roberts earned a D. Phil from Oxford University and taught political theory at the University of Toronto and vari- ous other universities. He had a diplomatic career in the Canadian foreign service before serving as a Member of the Canadian House of Commons and then a Cabinet Minister, serving in a number of portfolios under Prime Minister Pierre Elliott Trudeau. He is the author of numerous articles on political theory and The Liberal Agenda.
Thomas S. Axworthy has had a distinguished career in government, academia, and philanthropy. He has taught at the Institute of Politics at the John F. Kennedy School of Government at Harvard and appointed Chair of the Centre for the Study of Democracy, School of Policy Studies, Queen's University. He is currently a distinguished senior fellow at the Munk School of Global Affairs and a senior fellow at Massey College. He is the author of numerous books and articles of which the best known is Towards a Just Society, co-authored with Pierre Trudeau. He is a regular contributor to the opinion pages of the Toronto Star, the Globe and Mail, and the National Post. He frequently appears as a commentator on public and national issues.