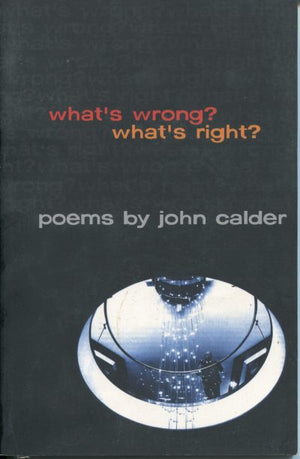 John Calder
What's Wrong? What's Right?
What's Wrong? What's Right?
is
John Calder's
first collection of published poetry although he wrote and published many poems as a young man and as a student. \n \nInternationally renowned publisher, John Calder has published almost fifteen hundred books and twenty Nobel Prize Winners since 1949. He is best known for his publishing commitment to life-long friend Samuel Beckett, for promoting the French
nouveau roman
writers and introducing the major figures of European literature into the English-speaking world. For fifty years, his commitment to literary excellence has influenced generations of authors, readers and publishers. 
Between the ages of twenty-three and seventy-one I wrote hardly any poems for reasons that are made clear in the poems Autobiography and The Prodigal Muse in this collection. All the poems here were composed in 1997-98. The arrangement is not chronological. They are the fruits of reflection, often when travelling, always when alone, driven by rhythms in my head. If some poems read like nonsense, then listen to them either as music or as playfulness. In large part they reflect my love of France, where I have always wanted to live and now do.
– John Calder
Published March 1999