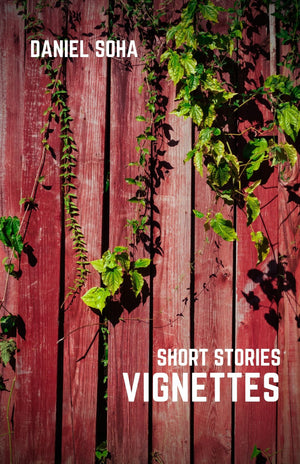 Early Access Special Pricing Available Now!

A unique and ground breaking collection of short fiction, the Author's first collection written in English and will surely establish his reputation as a major English language literary force.
Daniel Soha is a renowned French language author, a two-time finalist of the Trillium Book Prize, two-time winner of the Christine-Dimitriu-Van-Saanen prize, author of five novels, all published in French, author of numerous articles, editorials, book reviews, a book of short stories and the French translator of two books of poetry.
Vignettes reads like a tapestry of different places, persons, experiences, cultures - all woven together with a remarkable literary talent, full of insight, humour, and irony.
What critics have said about Daniel Soha's previous publications:
"Superbly written…A rich, original text overflowing with gusto that delights you while stimulating serious reflections on very contemporary, universal themes."
- Pierre Leon, L'Express de Toronto


"A book I currently relish, with its endearing characters, its emotions lurking behind the words, its philosophy, its testimonies of love… I turn the pages, I learn, I smile, I nod."
- Lysette Brochu, Planete Quebec


"A vibrant novel full of life and emotion. Here, the tough realities of our time coexist with humour, fantasy, courage and honesty. A stunning read."
- Jean Riley, TFO


"So good that I am speechless – The pages on NYC are the best I ever read, Auster included."
- G.L. New York


Daniel Soha lived and studied in France until his mid-twenties, holds two Master's degrees in Anglo-American studies and a Masters of Education from the University of Aix-en-Provence. He has had an international career as a diplomat, a director of cultural organizations, a translator, has worked for the Alliance Francaise, the French government, the Toronto French School, the French Library and Cultural Center in Boston. Over a span of twenty years he has lived in New York, Paris, Singapore, Boston and Toronto, where he still resides.
Short Stories
Pub Date: July 2023
Available at your local bookseller or order from
Mosaic Press / IPG (US) / Gazelle Book Services(UK/EU) /
Manda Group(Canada)
6 X 9 inches
160 Pages
Price: $22.95 USD $25.95 CDN
ISBN PB: 9781771617000
PDF: 9781771617017
EPUB: 9781771617024
MOBI: 9781771617031