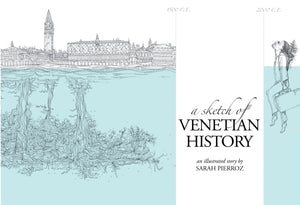 Sarah Pierroz
A Sketch of Venetian History | Written & Illustrated by Sarah Pierroz
Early Access Special Pricing Available Now!
---
A beautifully illustrated book exploring a unique take on Venice for curious travellers, lovers of history, art, architecture and the environmentally sensitive. This book also conveys a pervasive message of deep environmental and climactic concerns and the tragedy of how a Renaissance Empire has been turned into a contemporary amusement park. A Sketch of Venetian History will enchant, educate and challenge readers.
Venice remains one of the jewels of Italy, of Europe, of the world. It is universally recognized as part of the artistic and architectural patrimony of humanity and in 1987 was designated as a UNESCO World Heritage site. It receives over 22 million visitors each year!
Since the fall of the Venetian Republic in 1797, Venezia has held an unrivalled place in the world's imagination and has inspired writers of prose and poetry, artists of all sorts, photographers, film makers, tourists and more. Yet, most people do not know the story of Venice.
This book offers a unique portrait of Venice and weaves together many diverse subjects – art, ecology, travel, history, all enriched by original line drawings of a unique style found on every page.
A Sketch of Venetian History illuminates the Venetian Republic's history through six major eras – from its early ecological formations, through its modest beginnings, to the height and potency of the Grand Republic, to its collapse and to its modern day challenges posed by environmentalism and massive tourism.
Sarah Pierroz created this book while living in a magical seaside village north of Venice while teaching Visual Art & Environmental Science at a United World College. She earned her first degree from McMaster University in Hamilton, Ontario graduating from the Arts & Science Programme then specialized in the Artists in the Community Education program at Queen's University. She then set off to explore the world, working in Africa, the Middle East and is now based in Thailand. Her next book,
Heart Rooted in Sky: Yoga Verses Illustrated
, will be published in 2022.