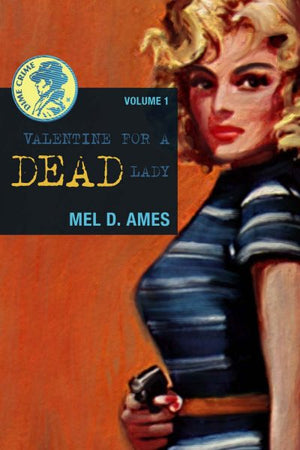 Mel D. Ames
Valentine for a Dead Lady by Mel D. Ames
Marking the launch of the new Dime Crime series of classic crime fiction comes Valentine For a Dead Lady, an introduction to Mel D. Ames's classic intrepid and daring Detective Cathy Carruthers. In the male dominated world of hard-boiled detectives, Ames's genre changing Lieutenant Carruthers pioneered a new exciting direction with these fast-paced tales of vice and villainy.

Originally published in Mike Shayne Mystery Magazine, Ames's stories evoke the golden era of short crime stories that filled pulp magazines. This anthology compiles the first five stories of Detective Caruthers, with introductory story "A Matter of Observation" and four other expertly crafted tales of murder and deception. Years before Elmore Leonard introduced his smart and savvy female detective Karen Sisco, Mel D. Ames's razor sharp Cathy Carruthers expertly and cleverly out manoeuvres duplicitous crooks and cynical partners to solve complex and nuanced homicides. When originally published thirty years ago, these stories were praised for their originality and quality, as the editor of Mike Shayne stated that Ames's serialized female detective stories "blend character, story and plot into an entertaining read" while Canada's national newspaper the Globe & Mail declared Ames to be a "superior talent."

Mel D. Ames is widely published and acclaimed author of crime fiction, having published numerous stories for Alfred Hitchcock, Ellery Queen and Mike Shayne Mysteries. Born in Winnipeg, Canada, many of Ames's stories drew inspiration from his earlier careers as a pilot in World War II, a railroad cop, taxi driver and prison guard.