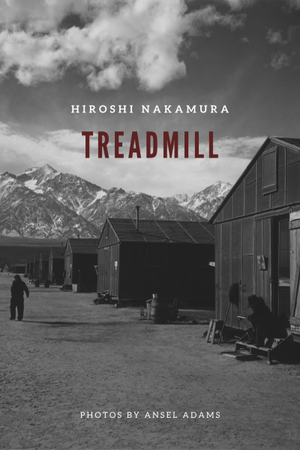 Hiroshi Nakamura
Treadmill
---
"This is the story of Teru Noguchi, American daughter of Japanese ancestry. This is the record of a people in bewilderment, forsaken by their land of adoption. We were forced from our homes. We were herded into confinement as a demonstration of loyalty. Yet we were denied the rights of loyal men. Not understanding why nor knowing where, with the whole of our worldly goods clutched tightly in our hands and trying desperately to keep together the ties of blood, we stumbled wearily through shocking heat and stifling dust - without liberty, without home, with uncertain future. We cheered in the darkness on the dregs of disillusionment, of bitterness, of hopeless- ness; we cheated, we lied, we were honest, we were brave, we stood on the hot burning sands and made our decisions, each according to his con- science. We were different, we were humans. Even as you. "
-From the Preface by Hiroshi Nakamura
Treadmill is a truly unique and historically significant novel and the only book written about life in the Japanese-American internment camps during World War II written at the time by an internee.
Hiroshi Nakamura, along with his family, spent the war years in Salinas Assembly Center, Salinas, California; Camp II of the Poston Relocation Center, Parker, Arizona; and Tule Lake Segregation Center, Newell, California. It was during this period that he put down on paper what he was observing, experiencing, and hearing and expressed them in this novel. Nakamura captures exquisitely the thinking and mood of the people. It accurately evokes the fears, anxieties, suspicions, cynicisms and passions brought out by camp life. Nakamura 'almost' succeeded in getting Treadmill published in the late 1940s. While editors and publishers thought well of the novel, they would not publish it as it was 'too sensitive' an issue. Professor Peter Suzuki discovered Treadmill while he was doing some research on internment camps of Japanese Americans.
This revised edition of Treadmill contains a new introductory essay by Professor Tara Fickle discussing the historical importance of Nakamura's work. Also included are a series of photographs of Japanese internment camps in California taken by renowned photographer Ansel Adams taken in 1943. Adams had unprecedented access to life inside the camps and these photographs provide an exceptional visual accompaniment to Nakamura's story.