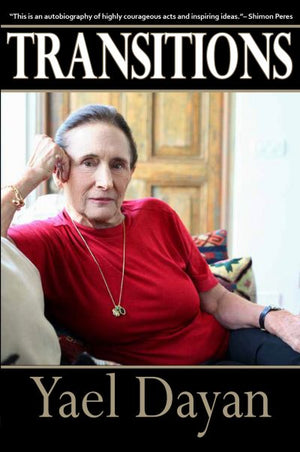 Yael Dayan
Transitions - Yael Dayan
"This introspective and moving memoir, written more than three decades after her 1985 biography, My Father, His Daughter, has a very different perspective from the earlier book….Many readers will relate to her struggles with mortality and loss. There is much here that is distinctly Dayan, including her renewed determination to fight for her life, social ideals, and politics after her brother's death in 2014."
– Publishers Weekly
"This is not really an autobiography. It is a meditation in which Yael Dayan, now in the twilight of her life, tries to add up what her life amounts to…This book is by no means fun to read, for it deals with painful truths that most of us would rather not confront, if we could avoid them, but they are the inevitable consequences of reaching old age, and so we would do better to face up to them than to pretend that they will not come to us."
– South Florida Jewish Journal and Jewish Advocate
"This book looks death in the face and describes it in a poetic style."
– Atlantic Jewish Times
"This is an autobiography of highly courageous acts and inspiring ideas."
– Shimon Peres, Former President of the State Of Israel
"The sad chapters are heartbreaking without being sentimental… I admired what the book lacks—-bitterness and resentment—[for] it is written throughout in a spirit that is bold, courageous and lucid."
– Amos Oz
"In a precise, rich and candid language, Yael Dayan  wanders through her dramatic life with  captivating courage and honesty."
– Abraham B. Yehoshua
"A brave book by a brave woman. It describes, with honesty, with crystal accuracy and talent, a life experience that is both exhilarating and painful."
– Etgar Keret
"Here we find that rare miracle, when a life becomes literature, and in this case it is great literature."
– Dr. Giddon Ticotsky
In Transitions, Yael Dayan, novelist daughter of the legendary Moshe Dayan and a public figure with a long and illustrious political career behind her, looks back at her life, scrutinizing it without illusions. Once a desirable, free-spirited young woman and a successful author, she lived with the sense that she held the world in the palm of her hand. And the world adulated both her and the young state she came from. She was an officer in the Israel Defense Force, the daughter of a renowned general, a successful writer—Death Had Two Sons, A Soldier's Diary: Sinai 1967—much in demand on the lecture tour, and a star of the gossip columns.
Now in her 70s, she admits with touching honesty to missing both the vibrant 20-something she was, and the sober woman she became—a fierce political activist and parliamentarian for the left, a fighter for justice, women's rights, gay rights and peace. Having resigned her last public position, she must reconcile herself to being a mentor, a participant instead of a leader, yet remaining center-stage on the Peace Camp scene. The narrator's warm, intimate voice and her rich intellect, as well as her insights, make for a powerful reading experience.
Yael Dayan served as a member of the Israeli Knesset between 1992 and 2003, and from 2008 to 2013 was the chair of Tel Aviv city council. She was an officer in the Israel Defense Force and made a name for herself as an author and newspaper columnist. She has published five novels (New Face In The Mirror, 1959) as well as a memoir of the Six-Day War called Israel Journal: June 1967 and a biography of her father called My Father, His Daughter.
| | |
| --- | --- |
| Author(s) | Yael Dayan |
| Translator(s) | Maya Klein |
| Publication Date | October, 2016 |
| Page Count | 150 |
| ISBN | 978-1-77161-207-4 |
| Format / Dimensions | PB / 6" x 9" |
| Retail Price | $19.99 USD, $24.99 CAD |