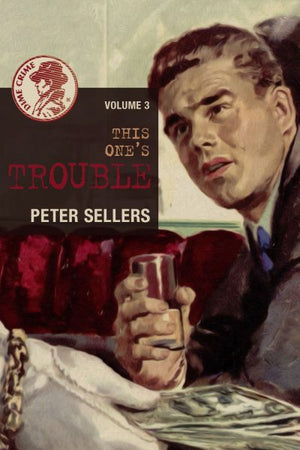 Peter Sellers
This One's Trouble
"Slick writing sprinkled with grit and a touch of the sinister, Sellers is a true craftsman and his stories are well worth everyone's time."
– J. Kent Messum, Author of Bait and Husk Arthur Ellis award winner for Best First Novel

"An esteemed editor of mystery anthologies…Peter Sellers is one of the best known if least prolific of current writers. His rare short stories are always a treat."
– Ellery Queen, Ellery Queen Mystery Magazine

This One's Trouble, the third volume in Mosaic Press's Dime Crime series, offers a collection of some of the best hard-hitting crime stories from acclaimed writer Peter Sellers. Hailed as "one of the key figures in the Canadian mystery renaissance" in the pages of Ellery Queen, Peter Sellers' entertaining and offbeat crime fiction stories have appeared in every major mystery magazine including Mike Shayne, Alfred Hitchcock and Hardboiled.

In This One's Trouble, readers will discover characters that live in a world of shattered dreams and failed plans, where the banality of evil is found in everyday life. Included here are some of his best stories such as "Avenging Miriam", winner of the 2001 Ellery Queen Readers Award and the title story which was nominated for the Arthur Ellis Award in 1992.

Peter Sellers' stories have appeared in every major mystery magazine and numerous crime anthologies. He received the Derrick Murdoch Award in 1992 and is a four-time finalist for the Crime Writers of Canada's Arthur Ellis Award for Best Short Story.