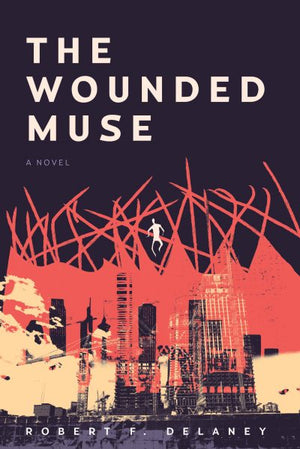 Robert Delaney
The Wounded Muse
"An observant debut novel in which the characters' selflessness shines through the haze." — Kirkus
"The Wounded Muse is an exciting yet grounded thriller set in Beijing during the years leading up to the 2008 Olympics. It's a wonderful setting in time and place; here was the People's Republic of China getting ready to celebrate its arrival on the world stage as a great power. Beijing was being readied to showcase a new prosperous and "open" China, but such perfection sometimes requires a heavy hand." — East-Asia Book Review
Interview with Robert Delaney for Open Book's WAR: Writers As Readers series
Qiang returns to his homeland of China from Silicon Valley to find Beijing undergoing a chaotic transformation in the lead up to hosting the 2008 Olympic Games. Wrecking balls are knocking down entire neighbourhoods to make way for new structures more in line with the government's vision of a modern China. The tumult inspires Qiang to shoot a documentary about the loss of affordable housing, which draws the attention of public security officials. When Qiang is suddenly arrested by local police, it falls on his friend Jake, an American journalist who admires Qiang and his work, to try to figure out how to end the detention.
With few options, Jake enlists the help of those he's not sure he can trust. Dawei, a Chinese itinerant Jake befriended years earlier, returns to Beijing in the midst of a cat-and-mouse game Jake is playing with the authorities to retrieve a memento that has suddenly become extremely valuable. Dawei becomes ensnared in a plan to force the authorities to release Qiang, and Jake must then decide who survives.
Based on real events, Robert F. Delaney's The Wounded Muse takes readers to a city and country undergoing a transformation on a scale previously unseen, where in the shadowed wreckage of forgotten communities people are pushed to psychological extremes to secure their position. In a society that promises endless opportunity, and unknown risks along the way, many end up defeating themselves.
Robert Delaney has been covering China as a journalist for Dow Jones Newswires, Bloomberg News, and South China Morning Post since 1995. Many of the themes for The Wounded Muse – Robert's first novel – were first developed in Route 1 to China, a collection of short stories that won Robert "First Runner Up" in the University of Toronto – Penguin Random House Creative Writing Competition in 2012. Robert splits his time between New York City and Toronto.
Visit Robert's website for information on upcoming readings, reviews and his latest articles.
| | |
| --- | --- |
| Author(s) | Robert F. Delaney |
| Format / Dimensions | 6" x 9" |
| ISBN | 9781771613279 |
| Page Count | 256 |
| Publication Date | October 2018 |
| Retail Price | $19.95 USD, $26.95 CAD |