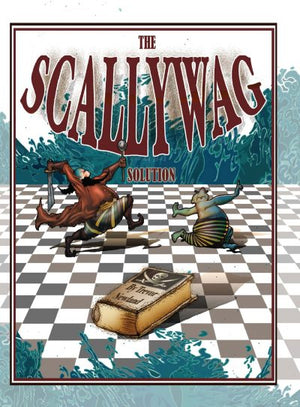 Trevor Newland
The Scallywag Solution
"Cartoon illustrations in shades of brown and blue-green set the tone for this high seas fracas. Newland has a knack for creating exaggerated facial features and contorted torsos that add a delicious layer of visual humour to the story. The Scallywag Solution is a rollicking pirate adventure that will delight young scallywags everywhere." — Midwest Book Review
"In addition to entertaining children, Newland aims to make history interesting for young readers. For example, the second instalment of the series will feature a royal balloon race and in the process explain why the Tower of Pisa leans. The third instalment will provide some answers as to why the famous Sphinx in Egypt has no nose."— BC Book Look
"With pages full of peculiar and colourful illustrations, Newland dives into a fantastic and unique world of scallywag pirates… Greatly inspired by Asterix and Alice in Wonderland [… ], Newland honours the latter with a checkerboard floor on the book's front cover. The book is a [in a] "rebellion against the cult of beauty in our society" [… ]" — Langara Voice
Meet the Scallywags, four misfits of the Royal Navy bound for glory!
The Scallywag adventures take young readers on trips through time, illustrating an exciting high-flying adventure story that also lets the reader explore and learn about the mysteries of history. Where did the original Jolly Roger flag come from? Why does the Tower of Pisa lean? How did the Sphinx lose its nose? Who was the real Mona Lisa? The wild and thrilling escapades of the Scallywags will help readers find the answers.
The Scallywag Solution is the first of many adventures to come from the Scallywag gang. In this first adventure, the Scallywags face down the most terrible crew of cutthroats on all the seven seas—Blackbeard, Redbeard, Greybeard, and their little sister Goldiebeard! Only the King of all the Pirate Ghosts, Davy Jones in his dreaded locker at the bottom of the sea, frightens these scurvy dogs! But by the time the bumbling Scallywags are done with them, that may be where they're headed…
In The Scallywag Solution, readers learn the origins of the important historical images and myths of pirates and the high seas. Told through Newland's spectacular and wondrous illustrations, readers will find out how even the most under of underdogs can become real heroes in the face of true danger!
Trevor Newland is an exciting new talent, a storyteller, illustrator and artist. His original profession was as a songwriter/performer in L A, Toronto and Vancouver working for various publishing firms. He currently teaches English literature at Langara College in Vancouver, Canada. Newland's is the author of several exciting upcoming books, including Melvin the Magnificentand the Race to Pisa, which will be published in 2015 and 2016 by Mosaic Press.
Follow Trevor Newland on Twitter or visit his website for more details on his books.