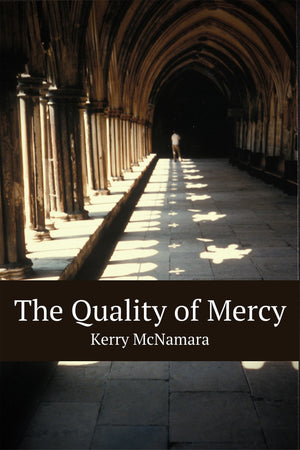 Kerry McNamara
The Quality of Mercy
A Father's life story as a Catholic missionary in Guyana, his rise through the Vatican, his love for a young woman and his departure from the Church.
When a call comes in from Canada during the day, the teacher knows something is wrong. A foreboding text from her brother confirms the news and she leaves her home in Virginia and races up to Canada. She finds her father in a hospital with a fatal diagnosis and knows his time is limited. She begs him to tell her the full story of his life as a Catholic priest – the story that he has hidden from his family for decades. For the next few years, the Father and Daughter collaborate in telling the intricate story.
The narrative begins in Ireland with a fatal steeplechase accident where the grandfather is trampled to death. It traces the father's life as an Irish Catholic boy and his journey to the Scarboro Missions. It documents his service in the jungles of Guyana and his rise through the bureaucracy of the Vatican in Rome. When he falls in love with a young woman, he decides to leave the Church and spends the rest of his life trying to raise a family.
The Quality of Mercy reveals the inner workings of the Catholic Church and explores the struggle of a family consumed by secrets, guilt and then, death.
Kerry McNamara states:
"I wrote this story to memorialize my father and to learn about his life as a Catholic Missionary. The recollections in this book are all from his perspective and were collected from his early writings, journals, and through countless discussions and interviews with him. As a writer, I tried to weave his life as a Catholic priest and my own life with him as a father to create a truthful and compelling narrative.
I hope that this book highlights the complexity of the Catholic Church and my father's life as a priest within that system. I also hope that this story reveals the intricacy of families and highlights the love, loyalty and loss that occurs when people love so deeply."
Kerry McNamara was born and raised in St. Catharines, ON, Canada, where her family still lives today. She moved to Virginia in 2006 and currently lives in Chesapeake, VA with her husband and two children. She holds an MFA from Old Dominion University and has written numerous articles in literary magazines including The Sun and Equus. Kerry currently teaches College Composition in the Dual Enrollment program at Grassfield High and Tidewater Community College.
Pub Date:

 

Spring 2023
Available at your local bookseller or order from
Mosaic Press / IPG (US) / Gazelle Book Services (UK/EU) /
Manda Group (Canada)
6 X 9 inches
220 Pages
Price: $22.95 USD $25.95 CDN


ISBN PB: 

9781771617048
PDF: 9781771617055
EPUB: 9781771617062
MOBI: 9781771617079