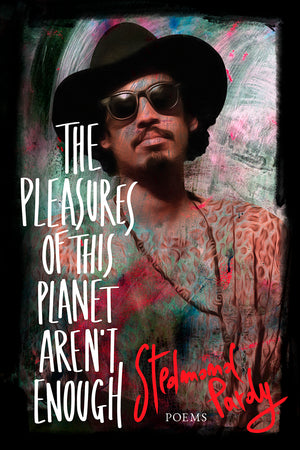 Stedmond Pardy
The Pleasures of this Planet aren't enough - Stedmond Pardy
"The joy of publishing is discovering a totally original and new voice...here in Stedmond Pardy we have found ONE!"
"This first collection of poems by Stedmond Pardy has the potential to become a landmark in Canadian literature – to encourage you to become lost inside a painting. No street is just a street, no addict, an addict with Pardy.Reading Stedmond Pardy's jazz-infused poetry is to be pulled into a different world, whether you wish to be there, or not. As heavily influenced by surrealism as he is by the Beat Generation, the worlds Pardy creates can be full of awes, beauty, wonder, darkness, despair and much more.Pardy the poet is willing to take risks, beyond vacuous, redundant mimicry; Pardy dares to swim in the deep end of the pool."
Dane Swan, author of A Mingus Lullaby, 2017 Trillium Book Award for Poetry Finalist.
"Stedmond Pardy's is a barbaric voice. No mere versifier, his lines and cadences come from deep in his body where the imagination lives. A walk down Younge Street becomes an Daliesque voyage, the poem's imagery conjured from an inner world whwere beached whales coexist with Joan Baez, the Pyntian Oracle at Delphi and the corrupted premier of Italy. A psychedelic rant, Pardy's poetry is also the utterance of a well-informed, streetwise, passionate voice, prophesying doom and hoping for peace in long, lyric lines that sing. "
Stanely Fefferman, author of Heart of all Music & Home was Elsewhere.
Stedmond Pardy is a self educated, Left handed Poet of Mixed Ancestry ( Newfoundland & St. Kitts/Nevis ). Originally from the Lakeshore, Mimico area & now residing...Dionysus knows Where?...He got into the literary scene AFTER THE Mysterious music Reviewer the Lonely Vagabond got hold of some of his work, & Hooked him up with The late great poet & Host of the radio show "Howl on 89.5 CIUT". Since then He has performed his work Around the Greater Toronto Area & has appeared on stages In Montreal & Washington state. The Quotes "An artist is an instrument through which the Universe reveals itself" & "Word poetry Is for every man, but soul poetry alas, Is not Heavily distributed" Are the words he tries To live by.
"Stedmond Pardy is poet who knows how to weave surrealist vision & historicity into the fabrics of everyday life in real-time –whether we are thrown into kinetic streets of the metropolis of made to pause & consider the bigger cosmic picture, these poems are infused with a voice that will echo long in your consciousness. Herein is a poetry sincere because it is raw & raw because it's sincere."
Adebe Derango Adem, author of Terra Incognita & TheUnmooring