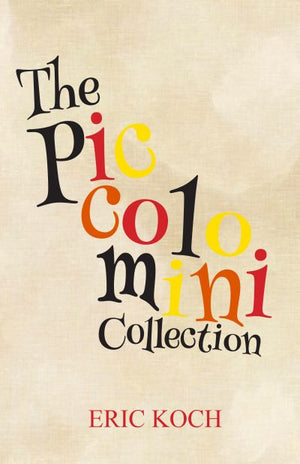 Eric Koch
The Piccolomini Collection
"CAPTURES SO MANY OF THE BIZARRE FACETS OF THESE KALEIDOSCOPE TIMES."
– David Schatzky

The critic Peter Buitenhuis wrote an essay titled "Cultural Sports: The Novels of Eric Koch" for the 74th issue of the Tamarack Review. Now, nearly forty years and more than fifteen books later, Koch
is playing the same games, more concise but just as delicious. The venue of his latest fantasy, The Piccolomini Collection, is the spa island Prima Dora Springs, a reflection, in miniature, of the interplay between Reason and Unreason in the real world. The island is known for its castle, its promenade, baths, sanatoria, opera house, casino and first-class hotels.

"[Koch's] imaginative agility, inventiveness and stylish wit have enabled him to create original and highly entertaining works."
– OXFORD COMPANION OF CANADIAN LITERATURE

Eric Koch is Canada's premier historical fiction author whose works have now been translated into German, Italian, and Chinese. He is the author of eight works of fiction and numerous nonfiction works. He lives in Toronto, Canada.