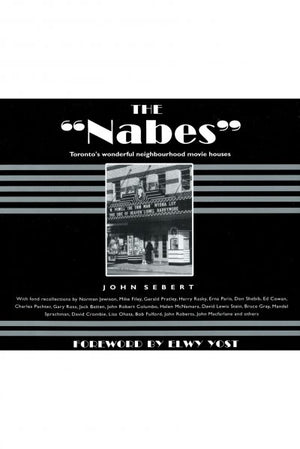 John Sebert
The Nabes - Toronto's wonderful neighbourhood movie houses
"…a gallant project from some people who love the movies as much as I do… The Nabes is a tribute to the neighbourhood movie houses and the hardworking people who ran them in the hardest of times…"
Elwy Yost
The "Nabes" were an important part of North American culture, a phenomena which peaked in the 1940s, fell into decline in the late 1950s mainly with the introduction of television, and became virtually extinct by the 1970s. Every neighbourhood in almost every major city and town throughout North America had a "Nabe" to watch new movies, to see the newsreels, cartoons and serials, to meet friends, and even to collect the "gifts" which were common as giveaways to encourage attendance.
John Sebert is a native of Toronto. He began taking photographs when he was ten and later attended the Ryerson School of Photography. John then opened his own studio, specializing editorial work for MacLean's, Chatelaine, and Weekend Magazine, winning many journalism awards. After fifteen years in still photography, he moved into a long and successful professional career in commercial film production. John has always possessed a passion for film and antiquity, and has labourously researched these landmark "Nabes" in archives, and assiduously photographed these sites as they are today.
This is John Sebert's first book.
| | |
| --- | --- |
| Author(s) | John Sebert |
| Contributor(s) | Bob Fulford, Bruce Gray, Charles Pachter, David Crombie, David Lewis Stein, Don Shebib, Ed Cowan, Elwy Yost, Erna Paris, Gary Ross, Gerald Pratley, Harry Rasky, Helen McNamara, Jack Betten, John Mcfarlane, John Robert Columbo, John Roberts, Lisa Ohata, Mandel Sprachman, Mike Filey, Norman Jewison |
| Publication Date | 2001 |
| Page Count | 145 |
| ISBN | 978-088962-770-3 |
| Format / Dimensions | PB 10" x 8" |