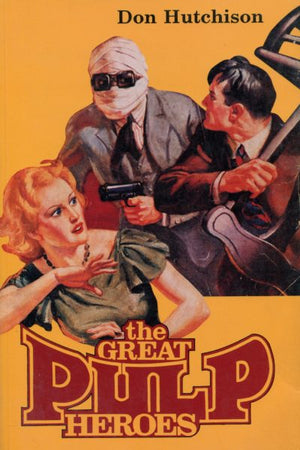 Don Hutchison
The Great Pulp Heroes
"Reading The Great Pulp Heroes brought me back to those wonderful years when I first encountered the mysterious Shadow, the unrivalled Doc Savage, the Spider, G-8, Bill Barnes, and so many heroes of a more Golden Era, and reminded me anew why I love them all!"
Will Murray, author of Doc Savage and The Destroyer
"Don Hutchison was the first, the very first, to write about the great pulp heroes with grace and wit and intelligence – characteristics which still make his work a delight to read."
Robert Sampson, author of Yesterday's Faces
Here is an affectionate look back at the outsized heroes who once occupied the imagination of millions of loyal readers. The Shadow, Tarzan, Doc Savage, Captain Future, The Spider, Zorro. They were the original super guys – godfathers and inspiration to the likes of Superman, Batman, and James Bond.
Fascinating and informative, The Great Pulp Heroes is a lively and entertaining history of those fabulous characters, of the gaudy, glorious magazines that spawned them, and of the amazing wordsmiths who churned out their monthly adventures.
Don Hutchison is widely recognized as a leading authority on the history of the pulp fiction era. He has published numerous magazine and newspaper articles and two previous books on the subject. He is creator and editor of the acclaimed Northern Frights anthology series.
| | |
| --- | --- |
| Author(s) | Don Hutchison |
| Publication Date | 1996 |
| Page Count | 276 |
| ISBN | 978-088962-585-3 |
| Format / Dimensions | PB / 6″ x 9″ |
| Retail Price | $16 US, $20 CAD |