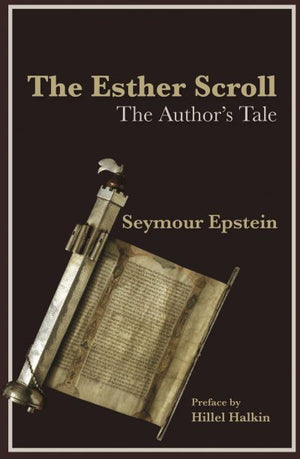 Seymour Epstein
The Esther Scroll - The Author's Tale
The Esther Scroll is an exceptional work of meticulous reading and bold interpretation of a ancient text.
"Now we have a radically new interpretation by Seymour Epstein in The Esther Scroll: The Author's Tale. In a bold thesis, Epstein contends that The Book of Esther was written neither as light comedy, nor as sacred history, nor as a romance, nor as a handbook for Jewish survival in the Diaspora. Rather, it is a sat-ire on Jewish life in the Diaspora, in which it sees no prospects for survival, at all….Epstein's argument stands all previous readings of Esther on their head."

– Hillel Halkin, from the Preface
"What happens when a masterful educator falls under the spell of a work he has taught – and taught others how to teach – over several decades, in classes from Toronto to Morocco? The result is this original commentary on the Book of Esther, unravelled like a mystery and revealed to be much more chilling than the celebratory basis of Purim celebration. Seymour Epstein sees this book as a warning against exile and godlessness. Enhancing our appreciation of the story,, he invites us to see how it made its way from satire to sanctity." –

– Ruth Wisse, former Professor of Yiddish Literature and Comparative Literature at Harvard University
"Learned and provocative in equal measures, Seymour Epstein's The Esther Scroll turns the plaster saints and cardboard villains of so many traditional readings of the Book of Esther into fallible, all-too-human people driven by appetite and lack of understanding. Epstein's approach to the text as a depiction of the radical absurdity of Exile and exilic Jewish life gives us a Book of Esther that has much in common with Aristophanes or Swift as with our usual ideas of Holy Writ"

– Michael Wex, New York Times best selling author of Born to Kvetch
Seymour Epstein is a well known and well traveled educator, whose long engagement with Jewish life has taken him from Toronto to Morocco, from the Unites States to Siberia, and Israel. He has worked professionally for many major Jewish organization worldwide. He is also the author of many policy documents, academic articles poetry and monthly newspaper columns. His book From Couscous to Kasha: Reporting from the Field of Jewish Community Workwas published in both English and Russian. He lives in Toronto with his Family.