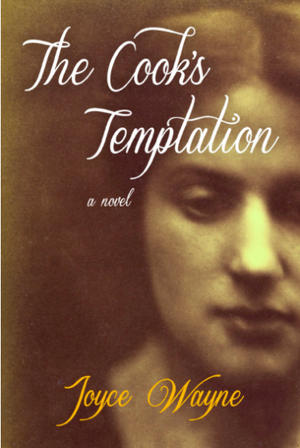 Joyce Wayne
The Cook's Temptation
"Joyce Wayne's debut novel, The Cook's Temptation, has the stately bearing of a nineteenth century novel – the mercilessness of Thomas Hardy, the black allegory of Nathaniel Hawthorne, the tense marriages of George Eliot. It is a story of how people become what you blame them for being."
– Ian Williams, poet and fiction writer,
short listed for the 2012 Griffin Poetry Prize
The Cook's Temptation brings to life the complexities of Victorian life, first in County Devon and then in London's East End. The 'big picture' is about one woman's life, class conflict, religious intolerance, suspicion and betrayal. The central figure is Cordelia, a strong-minded Jewish woman who is caught between her desire to be true to herself and her need to be accepted by English society.Cordelia Tilley is the daughter of a Jewish mother and an Anglican father. Her mother has groomed her for a life in English society while her father, a tough publican, has shown no tolerance for his wife's social climbing or the conceits of their perspicacious daughter. Cordelia's mother dies from typhoid fever, she tries to run the family 's establishment, she falls prey to a local industrialist, she gives birth to a son, she is tormented by her husband and his family. Finally, she is rescued by suffragette friends and sets off to start a new life in London.The Cook's Temptation is about a woman who is unpredictable, both strong and weak willed, both kind and heinous, victim and criminal. It is a genuine Victorian saga, full of detail, twists and turns, memorable scenes, full of drama and pathos.
Joyce Wayne has an M.A. in English literature, she has taught journalism at Sheridan College, Oakville, ON for twenty-five years and she lives in Toronto, ON. She was a winner of the Diaspora Dialogues contest for fiction, she was awarded the Fiona Mee Award for literary journalism, the co-writer of the documentary film, So Far From Home in 2010, a film about refugee journalists persecuted for their political views, and various of her other works have been published in Parchment, Golden Horseshoe Anthology, Canadian Voices, TOK6.
For more information on Joyce Wayne and any upcoming events, you can visit her website or follow her on Twitter.