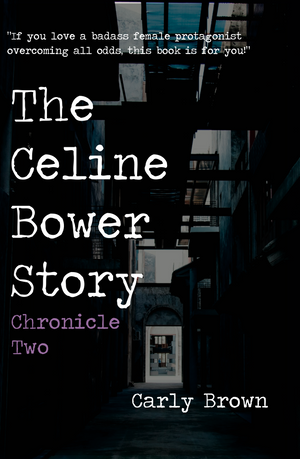 Carly Brown
The Celine Bower Story: Chronicle Two
Early Access Special Pricing available now!
Vengeance Fiction at its Best

Mosaic Press published The Celine Bower Story: Chronicle One in 2020 which established Carly Brown as an original voice in this genre. She was awarded the Winner Readers' Choice Niagara Falls Review, 2020 The reviews were unanimous in their overwhelming critical praise.
"I couldn't put this book down! It kept me on the edge of my seat...Can't wait for Part 2."
Kara Foster
"I devoured this book! If you love a badass female protagonist overcoming all odds, this book is for you! From start to finish, this book keeps you riveted on Celine, her palatable need to over come her trauma, and on what will happen next. Can't wait to see more from this author."
Nicolle McKinnon
"The Celine Bower Story, Chronicle One, is one woman's epic journey from a kind and loving veterinarian and assault survivor, to a cunning and dangerous vigilante who will not be satisfied with just taking back the night she's taking it all back..."
Goodreads
"This type of book doesn't really exist for women. Though female superheroes exist aplenty...Celine Bower is described more akin to The Bride from Quentin Tarantino's Kill Bill, or female versions of thriller heroes from Jonathan Kellerman, Lee Child, and even classic crime literature from Arthur Conan Doyle..
Niagara this Week
"An empowering read for women who have walked through tragedies... A must-read for feminists and thriller-lovers."
Librarian from Kent, UK
.
Carly Brown now lives in the Niagara region of Ontario, Canada. She has taught English and drama in Hong Kong and other cities in Asia. She wrote a children's play that won eight awards in the Hong Kong Dramatic arts Festival in 2008. This is her second novel.
Pub. Date: August 25th 2022
Available at your local bookseller or order from Mosaic Press / IPG(US)/ Gazelle Book Services(UK/EU) / Manda Group(Canada)
"News broke of Celine Bower's latest victim just as her plane touched down in Southeast Asia. She was looking to hide and for a new start, but could Celine really run from who she was becoming?
The jungle is darker than Celine thought and far more sinister. But when an unexpected note arrives at her doorstep deep in the jungle, Celine is surprised at her response to the most outrageous request for help she has ever gotten.
Will she continue to hide, or does Celine fulfill her destiny and hunt down a serial killer?"
Carly Brown, Introduction to Chronicle Two
6 X 9 inches
200 Pages
Price: $21.95 USD $24.95 CDN
ISBN PB : 9781771616485
PDF: 9781771616492
EPUB: 9781771616508
MOBI: 9781771616515