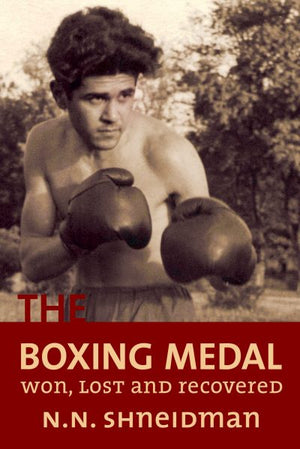 N.N. Shneidman
The Boxing Medal
"Life is full of extraordinary happenings and adventures…" so asserts Norman Shneidman to begin The Boxing Medal. The story of a survivor of the Vilnius Ghetto, and the most unlikely story of the rediscovery of a relic from his past—a sports medal awarded to him in May 1943 for his participation in a boxing competition which took place in the Vilnius Ghetto under Nazi control. One late fall day, November 26th, 2006, two Lithuanian friends of Professor Shneidman, went out with metal detectors to seek hidden metal objects in a Lithuanian forest, a pleasant way to pass their time. They were in a field between the villages of Paberze and Gedraiciai on the site of an old farmhouse when they found a medallion with an inscription in a language that appeared to be either Hebrew or Yiddish and a date—18 May 1943.What was it? What was its history? What piece of forgotten and obscure history would it reveal?
In The Boxing Medal, Professor Shneidman provides us not only with the resolution to the mystery of his medal, but also provides the reader with an intriguing and deeply personal history of Vilnius, the Jewish community of Vilnius, the Vilna Ghetto and much more. He interweaves his own autobiography and his life in sports in Lithuania from pre-war years, to his life during, and after, the liquidation of the Vilnius Ghetto. The story of the medal is only one part of the story of his life in Lithuania and the Ghetto. The unlikely discovery of the medal and how its original owner was finally found in Canada, the return of the medal to its owner is also part of The Boxing Medal story.
N.N. Shneidman is a distinguished Professor Emeritus of Russian Literature at the University of Toronto and the author of numerous books, including, Jerusalem of Lithuania: The Rise and Fall of Jewish Vilnius (Mosaic Press 1998), Three Tragic Heroes of the Vilnius Ghetto (2002, Mosaic Press), and Double Vision (Mosaic Press, 2007). All of N.N. Shneidman's books have received critical acclaim, including winning the Canadian Jewish Book Award for Holocaust History in 2002 for Three Tragic Heroes.