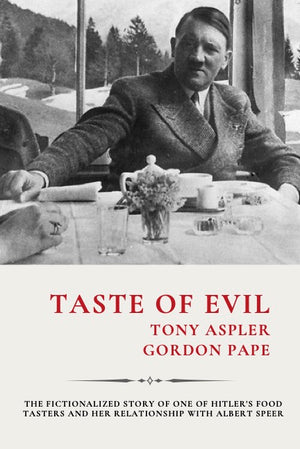 Tony Aspler & Gordon Pape
Taste of Evil
Adolf Hitler had fourteen female tasters who sampled every dish put on his table. Taste of Evil is the fictionalized story of one of those women. We follow the life of one of those tasters as she becomes more deeply involved in Hitler's inner circle, and we discover the revelation of her own hidden past, which culminates in her determination to poison Hitler.
Gretchen von Bismarck, a beautiful young German girl from an aristocratic family, was endowed with an extraordinary sense of taste and smell. She is recruited into Hitler's inner circle and becomes a trusted member of Hitler's tasters. Through her architect father, she becomes associated with Albert Speer, Hitler's architect and Minister of Armaments and War Production. She also becomes aware of the Holocaust and her own previously unknown Jewish background. With the help of her young lover, Kurt Andorfer – Albert Speer's nephew and leader of Berlin's Hitler Youth Movement – she determines that she will poison Hitler. The plot takes us through the attempted assassination of Hitler in July 1944 at the Wolf's Lair, as witnessed by Gretchen, her planning and execution of the scheme to poison Hitler and Eva Braun on April 30th, 1945 in Hitler's bunker in Berlin, and her own attempt to survive and more!
Taste of Evil is thoroughly researched and historically accurate. It contains excerpts from important documents, reports and speeches of the period, some of which are not well known; production and damage reports to Albert Speer; text of a key speech by Himmler; quotes from important directives; slave labour reports; quotes from BBC and German radio broadcast, and more.
Tony Aspler is the author of twenty books, mostly about wine, and is widely respected as Canada's leading wine expert. He has also published six books of fiction including the best-selling Titanic (Random House Inc.).
Gordon Pape is the publisher of two investment newsletters, a columnist for The Globe and Mail Report on Business, and has written or co- authored sixty books. These include several best-sellers on financial management and investment, four novels with Tony Aspler, three books of Christmas trivia, and an award-winning book on historic Montreal buildings.