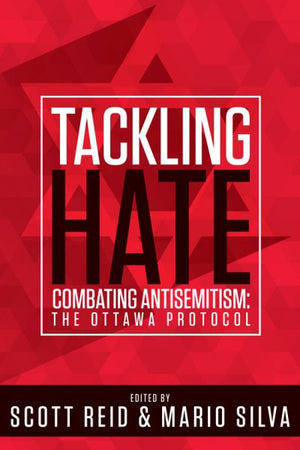 Scott Reid & Mario Silva
Tackling Hate - Combating Antisemitism: The Ottawa Protocol
"The present collection is a very valuable contribution to the current, much needed, debate regarding the consequential issue of 'the new anti-Semitism."
– Steven T. Katz, Slate Professor of Jewish and Holocaust Studies, Boston University
Tackling Hate is a volume of essays, testimony and documents drawn from the work of the Canadian Parliamentary Coalition to Combat Anti-Semitism (CPCCA). Many of the leading experts and scholars in the field from around the world appeared before the Committee and have contributed to this volume, including Professor Robert S. Wistrich, Yehuda Bauer, the Hon. Irwin Cotler, David Matas, Professor Gert Weisskirchen, Dr. Manfred Gerstenfeld, Dr. Gregg Rickman, Dr. Charles Small, Avi Benlolo and others.
Scott Reid is a Member of the Canadian Parliament, first elected in 2000. He has worked as a journalist, researcher and lecturer in Canada, the US and Australia. He has published two books, written numerous articles in magazines and academic journals. Many of his writings focus on the Canadian Charter of Rights and Freedoms, the role of the judiciary, property rights and national unity.
Mario Silva is an accomplished author and international legal scholar. He is the co-author with Dr. Massouda Jalal of Hanging By A Thread: Afghan Women's Rights and Security Threats (2014), Chair of the International Forum For Rights and Secutiry (IFRAS), Chair of International Holocaust Remembrance Alliance and has been decorated by the governments of Brazil, Portugal and France.
We gratefully acknowledge the support of the Azrieli Foundation and the Centre for Israel & Jewish Affairs (CIJA)