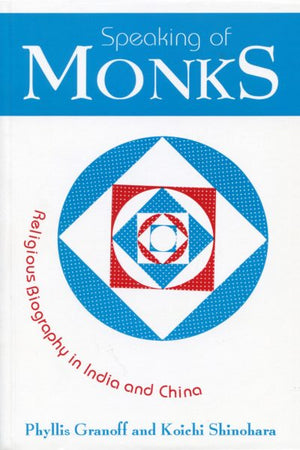 Koichi Shinohara, Phyllis Granoff
Speaking of Monks : Religious Biography in India and China
The two essays in Speaking of Monks explore how monks in medieval India and China wrote about themselves and their fellow monks. Phyllis Granoff translates and discusses biographies and autobiographies of two Jain monks who lived in the eleventh and fourteenth centuries, Dr. Koichi Shinohara tells us how a community of Chinese Buddhists viewed the life of the founder of their group, and how his biography reflected the changes that the community underwent. The essays are a result of a joint research project on religious biographies.
Dr. Phyllis Granoff is a specialist in Indic religions. She is a Professor of World Religions at Yale University. She also serves as the editor of the Journal of Indian Philosophy. She previously taught at McMaster University, Hamilton, Ontario, Canada and has held visiting positions at the Ecole Pratique des Hautes Etudes en Sciences Sociales, Berkeley, and Harvard. She has done research in all of the classical religions of India–Buddhism, Hinduism, Jainism and has published articles on Indian art and literature. Her interests include contemporary Indian literature and she has published translations of short stories from Bengali and Oriya.
Koichi Shinohara is a member of the Department of Religious Studies at McMaster University.
| | |
| --- | --- |
| Editor(s) | Koichi Shinohara, Phyllis Granoff |
| Publication Date | 1992 |
| Page Count | 232 |
| ISBN | 0-88962-544-1 |
| Format / Dimensions | PB / 6" x 9" |
| Retail Price | $17.99 CAD, $17.99 USD |