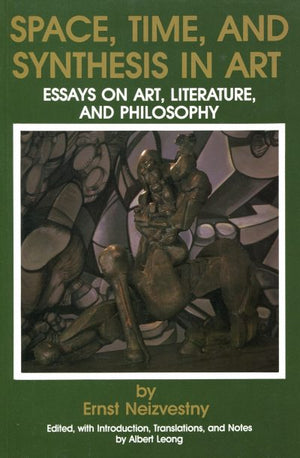 Ernst Neizvestny
Space, Time, and Synthesis in Art: Essays on Art, Literture and Philosophy
Ernst Neizvestny is the foremost living Russian sculptor and philospher of art. Neizvestny is an artist of momumental synthesis in the Russian avant-garde tradition of Vasily Kandinsky, Kazmir Malevich, Valdimir Tatlin, and Pavel Filonov. Among his works are the Lotus Blossom, momument atop the Aswan Dam in Egypt, the headstone for the grave of former Soviet premier Nikita Khrushchev, a crucifix in the Vatican Museum, a head of Russian composer Dmitri Shostakovich for the Kennedy Center, representations of the Tribes of Israel, and a Tree of Lifemonument to human creativity in art, science, and technology. He recently designed a New Statue of Libertyfor the Republic of China, and has been commissioned to create a memorial to the victims of fascism in Riga, and memorials to the victims of Stalinism in Sverdlovsk, Vorkuta, and Magadan in the USSR.
The subject of six books, films, and hundreds of articles, Neizvestny is also featured in Aleksandr Zinoviev's novel The Yawning Heights and in One World of Truth, a documentary film based on Aleksandr Solzhenitsyn's Nobel Lecture. Neizvestny's own writings include poetry, essays, memoirs, and three books, On Synthesis in Art (1982), Neizvestny Speaks (1984), and Space, Time, and Synthesis in Art (1990). He emigrated from the Soviet Union in 1976 and currently lives as an American citizen in New York City. His honors include membership in the Swedish Royal Academy of Sciences, and Humanities. He was accorded full state honors on the occasion of his triumphant visits to the USSR in 1989 and 1990.
This first collection of Neizvestny's essays on art, literature, and philosophy – with 50 illustrations of his sculptures, paintings, and drawings – establishes Neizvestny as a major artist, critic, and thinker in the tradition of Russian social, political, and philosophical thought. Translated into English by Professor Albert Leong, a specialist on Russian culture and the leading American scholar on Neizvestny, these brilliant essays delineate the artist's aesthetics and make his ideas accessible to scholars and general readers.
Albert Leong is Associate Professor of Russian, Head of the Department of Russian, and Director of the Russian and East European Studies Center at the University of Oregon, Eugene. His publications include The Millennium: Christianity and Russia (A.D. 988-1988), Oregon Studies in Chinese and Russian Culture, and Studies in Comparative Communism ("Socialist Realism: Cinema and the Arts"). He is currently writing a critical study, The Art of Freedom: Ernst Neizvestny and Russian Culture.
| | |
| --- | --- |
| Author(s) | Ernst Neizvestny |
| Editor(s) | Albert Leong |
| Translator(s) | Albert Leong |
| Publication Date | 1990 |
| Page Count | 188 |
| ISBN | 0-88962-437-2 |
| Format / Dimensions | HB 6" x 9", PB / 6″ x 9″ |
| Retail Price | 19.95 US, PB 24.95 CAD |