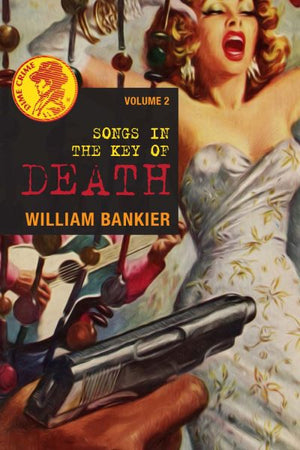 William Bankier
Songs in the Key of Death
Marking the launch of the new Dime Crime series of classic crime fiction comes Songs in the Key of Death, an anthology of music infused crime stories by acclaimed author William Bankier. For over thirty years, starting in the 1960s, Bankier's love affair with music mixed with his hard-boiled crime stories to produce some of the most exhilarating and dramatic crime fiction of his generation.
Many of Bankier's best work originally graced the pages of classic pulp magazines like Alfred Hitchcock and Ellery Queen Magazine, where Ellery Queen himself declared, "No one in the genre writes about music better than William Bankier." In Bankier's stories, amongst the notes of jazz and classical music, murder comes silently in the dead of night, asking the reader to turn the page and enter a bar where the patrons demonstrate Bankier's finely tuned ear for the lyrical, almost musical way, people speak…where fear is a killer. This anthology compiles five of Bankier's classic stories, including "The Choirboy," which was nominated by the Mystery Writers of America for the Edgar Allan Poe Award for best short story.
For over thirty years, since 1962, William Bankierwas widely published and acclaimed for his crime and mystery fiction, having published numerous stories for Alfred Hitchcock and Ellery Queen Mystery Magazine. He was nominated for numerous awards for his crime and mystery stories, including an Edgar Award and three Arthur Ellis Award nominations. He was awarded the Derrick Murdoch lifetime achievement award by the Crime Writers of Canada in 1992.