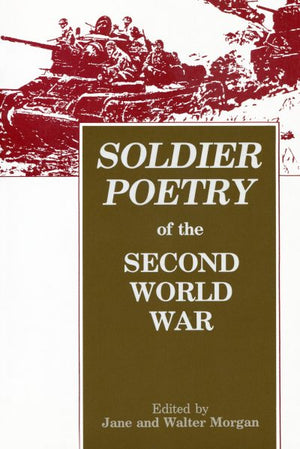 Jane Morgan, Walter C. Morgan
Soldier Poetry of the Second World War
Originally published in 1990, Soldier Poetry of the Second World War is an important addition to the literature on war and conflict and to the poetry of the 20th century. From Wilfred Owen, to Siegfried Sassoon, from Rupert Brooke to John McCrae, poetry has been recognized as an authentic and significant voice of war. This volume adds another dimension to that voice!
'It's a safe bet that most Second War servicemen and women didn't know an iambic from a pentameter but that didn't stop a surprising number of them from writing poetry…Maybe there is a bit of poet in most human beings, just waiting a chance for expression'. – The Maple Leaf
The Maple Leaf was a Canadian Army newspaper published during the war and it published a regular feature entitled "Rhyme and Reason", a weekly collection of soldier poems. The poems in this volume come from that publication. The poets were not professionals, far from it. But each poet/soldier crafted words into poetry in order to convey their thoughts, feelings, experiences. Each poem reflects immediacy and authenticity. Every reader cannot but be deeply touched and affected by the poems contained in this book.
Soldier Poetry of the Second World War is organized thematically and covers subjects such as Heroism, Fear/Death, Daily Thoughts/living, Dreams. Hope, Love, Peace/ Freedom, Afterwards. While the authors may well have died 'unknown' the poetry in this volume lives on as their vivid memorial and as a remembrance of who they were and what they felt and thought.
Jane Morgan taught in Winnipeg Schools, at Balmoral Hall, and was Lecturer and Assistant Professor at the University of Manitoba. She obtained her PhD in French Letters from the University of Ottawa.
Walter C. Morgan volunteered for service overseas with Canada RGEME in April, 1940. Landing in France shortly after D Day, Walter saw service in France, Belgium, Holland and Germany, obtaining rank of Armorer / QMS. After the war, Waler worked for the Post Office and was associated with the Ontario Rifle Association.
| | |
| --- | --- |
| Author(s) | Jane Morgan, Walter C. Morgan |
| Format / Dimensions | 6" x 9" |
| ISBN | 9780889629301 |
| Page Count | 190 |
| Publication Date | September 2018 |
| Retail Price | $18.95 USD, $24.95 CAD |