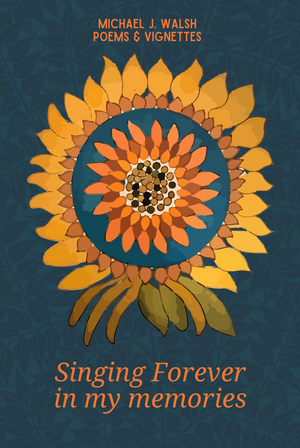 Mosaic Press
Singing Forever in My Memories
*Early Access Pre-Order Now Available at a reduced price*
Singing Forever in My Memories is true to its title because Mike's shared verses cover a lifetime of the visions and experiences of a literary artist. In fact, the title could have been called a Swinging collection of memories that dance across the page in rhythmic patterns & accompanying, lyrical harmonies. The words become his metaphorical pictures, images and feelings of happiness, comfort and our own uncertainty about the future when like him, " Who am I & why am I here?" lingers still in our memories. Mike's poems become an album of his life filled with the benchmarks of his journeys and challenges over sixty years. For example, when a piece of burning cigarette foil become his concern for our survival on Earth in 1962 (Cuban Missile Crisis). Then a 1973 update of the same poem became a team exercise with Arts students in a classroom. 

Then with his Vignettes he captures snapshots of Nature's landscape, which then reappears in a Walt Whitman-styled poem, "Life's Journey is a River" detailing the colours, smells, sounds, tastes, and touches of our journeys on the river of time and finally reaching the Oasis. Then there are the smiles on faded faces & the streets along his journey from England to North America in 1956. Sometimes feeling like an outsider in the New World his poems become passionate pleas for love and friendship. The reader becomes a fellow traveler who shares in the imagination, magic, curiosity & passion of the poet. Mike's experiments with words become his founding philosophy: "I am my possibilities everchanging, changed." in a place where we all live to ponder the questions about what it means to live here.
Now it is time for you to refresh your memories, while reading Mike's poems.
Michael J. Walsh is a retired professor from Sheridan College in Oakville, Canada. He has been involved in Canadian book publishing since 1967 and involved in the United States, the UK, Europe, and China . He co-founded Mosaic Press in the early 1970s.
Pub Date: November 2023

Available at your local bookseller or order from Mosaic Press / IPG(US)/ Gazelle Book Services(UK/EU) / Manda Group(Canada)

6 X 9 inches | 108 Pages | Price: $17.95 USD $21.95 CDN
| | |
| --- | --- |
| ISBN PB: | 9781771617161 |
| PDF: | 9781771617178 |
| EPUB: | 9781771617185 |
| MOBI: | 9781771617192 |