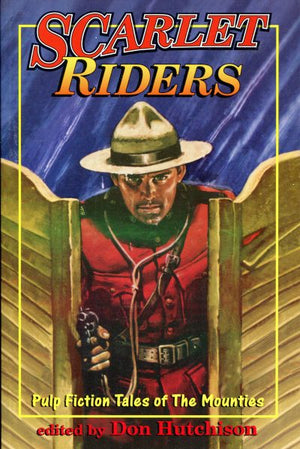 Don Hutchison
Scarlet Riders - Pulp Fiction Tales of the Mounties
The legendary pulp fiction magazines may be long dead, but they are not forgotten. Once upon a time their gloriously vivid covers advertised some of the most exciting stories of adventure, action and romance that a thrill-seeking public ever exerperienced.
During the pulp heydey of the 1920s and 30s, stories featuring rugged Mounties maintaining the law of the untamed North – on snowshoes or horseback, with faithful huskies close at heel – were so popular that a number of authors built careers specializing in their exploits.
Scarlet Riders is a generous collection of such tales – as flamboyant and red-blooded as the publications in which they first appeared. Included is a portfolio of cover art from the original magazines along with stories such as pulp era favorites as Hugh B. Cave, Talmage Powell, Frederick Nebel, Murray Leinster, Harold F. Cruickshank, Ryerson Johnson and Lester Dent, author of the world-famous Doc Savage series.
Don Hutchison is widely recognized as a leading authority on the history of the pulp fiction era. He has published three previous books on the subject, including the multi-award-nominated The Great Pulp Heroes. He is the creator and editor of the acclaimed Northern Frights anthology series.