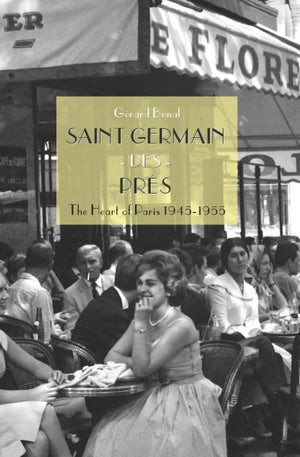 Gérard Bonal
Saint Germain des Pres : The Heart of Paris 1945-1955
"Gérard Bonal recounts the vibrant life of the Left Bank district in post WWII Paris – Saint Germain des Pres, a neighbourhood which thought it was the center of the universe. In his book, as passionate as it is well documented, Gérard Bonal gathered the testimonies of those cultural icons- Sartre, de Beauvoir, Greco, Picasso- who frequented this famous quarter without knowing where the day ends or when the night begins between 1945 and 1955."
– Sophie Delassein, Nouvel Observateur   
"Gerard Bonal allows us to relive in vivid detail, the most important moments of this captivating neighbourhood from which an exceptional cultural avant-garde flourished."
– Le Courrier   
"The portrait of Saint Germain des Pres by Gérard Bonal (biographer of Simone de Beauvoir), where Sartre reigned as master and Camus passed from enthusiasm to melancholy. A paradise lost for our young authors who drink from these pages like one dying of thirst at a well. The enchantment is unforgettable."
– Le Figaro
The existentialists, the philosophers, the chansonniers, the jazz musicians, the actors, the film makers, the literary giants and Nobel Prize winners: all of them are here in this spellbinding historiography and intimate biography of a small district in Paris in the decade after World War II, when the famed artists and writers living and working in Saint Germain des Pres conjoined in creative and intellectual activity which has influenced generations worldwide.
Originally published to wide critical acclaim in France, Saint Germain des Pres: The Heart of Paris 1945-1955 is the long-awaited translation of Gérard Bonal s documentation of this unique, almost mythical period in French intellectual and creative life. All the legendary names of that period are assembled in the book – Juliette Greco, Jean-Paul Sartre, Albert Camus, Bernard Buffet, Jean Cocteau, Simone de Beauvoir, Margueritte Duras, and more. With his skills as both biographer and novelist, Bonal has filled the book with the romance, adventure, energy, and the intensity of life and times of the Saint Germain district and her famous residents.
Much like the end of the war in 1870 witnessed the creative explosion in Montmartre, and the end of World War I witnessed the creative explosion in Montparnasse, the decade following the end of World War II coincided with the creative outburst that was centered in Saint Germain des Pres. There was a veritable creative explosion in the arts, from literature to music, from philosophy to dance, from theatre to painting and Bonal details the players and their scene in vivid language. Readers will revel in the stories of the haunts and habits of their favorite artists and thinkers, how they arrived at the place, how their work influenced each other across disciplines, their many other involvements with each other, and how the district itself would become a character in the consciousness of the artists during that time, and is now a site forever remembered by the world.
Gérard Bonal is a very well known and critically acclaimed historian and author. Saint Germain des Press was published by Editions du Seuil in 2008. He is an author of novels and biographies, and has written books on Gérard Philipe, Madeleine Renaud and Jean-Louis Barrault, Simone de Beauvoir and Colette.