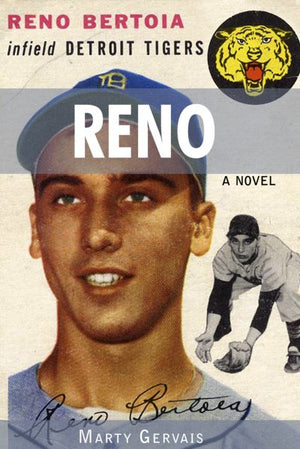 "This coming of age novel occurs in the era of the first great flowing of post-war pop culture in North America…music, movies, sporting events, TV shows…and especially baseball. Meet Sachmo, the Everly Brothers, Hollywood gunslingers and especially Reno Bertoia, Canadian baseball hero at the zenith of his career…Read this novel!"
– John B. Lee, award-winning author
The inspiration for Reno is Reno Bertoia, who played for the Detroit Tigers and the old Washington Senators. He was and remains a close friend of Al Kaline with whom he roomed on the road. In 1953, Reno's very first time at bat in the pros, he faced Satchel Paige – and struck out on three pitches. He now lives in Windsor, is a part-time baseball scout, and a frequent visitor to the Detroit Tigers home.
This is a novel about Baseball…a small town…the Detroit Tigers of the 1950s…the dreams of a young man. Each night, he tunes into the radio. Then he starts writing letters to the heroes of the day soliciting signed photographs from the pop culture icons whom he knows only through radio and his imagination.
The young man is confined to live in an attic, in a small town. He has polio. Over time, his confined living space becomes an extraordinary celebrity gallery, jam packed with photos of the people with whom he corresponds.
And, then, there is the Detroit Tigers' third baseman – Reno Bertoia. He leads the American League in batting and the burning question is – can he keep ahead of the legendary batting champion Ted Williams? Reno responds to the young man…and then it all happens!
Marty Gervais is an award winning journalist, the author of fifteen previous books of poetry, essays and photography. He lives in Windsor, Ontario and this is his first novel
| | |
| --- | --- |
| Author(s) | Marty Gervais |
| Publication Date | 2005 |
| Page Count | 92 |
| ISBN | 978-088962-857-1 |
| Format / Dimensions | PB / 5.5" x 8.5" |
| Retail Price | $12.95 USD, $17.50 CAD |