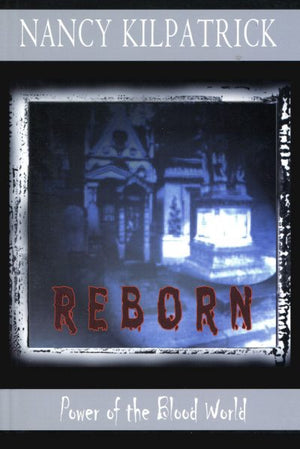 Nancy Kilpatrick
Power of the Blood World - Reborn
"Her vampires are metaphors for predatory energy."
The National Post
"Nancy Kilpatrick is Canada's Queen of the Damned."
The Ottawa Citizen
"Horror has never been so poetically equisite before: move over Anne Rice for Nancy Kilpatrick"
Robert W. Walker, author of Basic Instinct and Primal Instinct
The third Power of the Blood World book, Reborn takes place several years after the events of the second book, Near Death. The half human, half vampire child, Michel is now grown and on the verge of immortality. The story begins with the shocking murder of an ancient vampire, which throws this close knit group of the undead into a tailspin. They have a sense of who is responsible and with the help of the vampire Karl and his scientific methods end up sure of the murderer's identity. This monster is old and powerful and the community is torn between wanting to attack or retreat.
In the midst of chaos, Karl's partner Gerlinde is missing. He leaves the others behind and goes off along in search of her, despite warnings from his friends that the murderer will find him easy prey. But he cannot exist without his lover and eventually is confronted with an existential question that rips him apart: should he exist at all?
Nancy Kilpatrick is an internationally renowned, award-winning author of 30 books, including 17 novels, 5 collections of short stories and has edited 8 anthologies. Her works are acclaimed in the genres of dark fantasy, horror, fantasy and mystery. Her highly praised series Power of the Blood World, published by Mosaic Press, has been translated into numerous languages including Spanish, French, German and Italian.
Other books in the Power of the Blood World series:
Child of the Night
Near Death
Bloodlover
| | |
| --- | --- |
| Author(s) | Nancy Kilpatrick |
| Publication Date | 2006 |
| Page Count | 267 |
| ISBN | 978-088962-840-3 |
| Format / Dimensions | PB / 5.5" x 8.5" |
| Retail Price | $18.00 USD, $21.00 CAD |