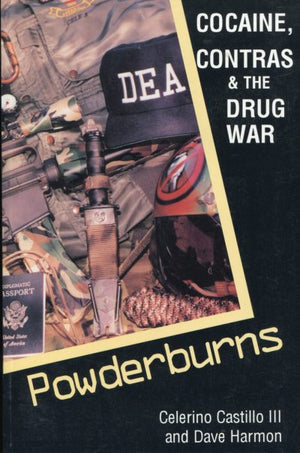 Celerino Castillo III, Dave Harmon
Powderburns - Cocaine, Contras & The Drug War
The truth about the remaining dark secret of the Iran-Contra scandal- the United States government's collaboration with drug smugglers.
Congressional committees have established a link between American agencies and known drug traffickers. In Powderburns, for the first time, a DEA agent goes public with detailed information about U.S. links to drug trafficking in Central America.
Powderburns is the story of Celerino Castillo III who spent 12 years in the Drug Enforcement Administration. During that time, he built cases against organized drug rings in Manhattan, raided jungle cocaine labs in the Amazon, conducted aerial eradication operations in Guatemala, and assembled and trained anti-narcotics units in several countries.
The eerie climax of Agent Castillo's career with the DEA took place in El Salvador. One day, he received a cable from a fellow agent. He was told to investigate possible drug smuggling by Nicaraguan Contras operating from ilopango air force base.
Castillo quickly discovered that Contra pilots were, indeed, smuggling narcotics back into the United States – using the same pilots, planes, and hangars that the Central Intelligence Agency and the National Security Council, under the Direction of Lt. Col. Oliver North, used to maintain their covert supply operation to the Contras.