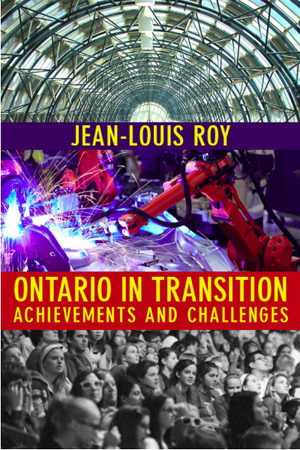 Jean-Louis Roy
Ontario in Transition : Achievements and Challenges
"Jean-Louis Roy's book comes as a shock and a delight. It is part reportage, part analysis of Canada's largest province. The treatment is thorough, generous (almost to a fault), curious and deeply researched. Very few Ontarians will have…tried as hard as Roy to situate Ontario within contemporary Canada and the world. There's a French expression for such a book tour de force."
– Jeffrey Simpson, The Globe & Mail
Ontario in Transition is a unique contemporary look at Ontario from a distinguished Quebecer's perspective. Scholarly, erudite, sensitive to the nuances of the Ontario reality, Jean-Louis Roy weaves a fascinating portrait of where Ontario has come from, where is it today and where is it likely to go in the future. Chapters include: The Ontarians, A Changing Economy and A Cultural Society.
Jean-Louis Roy is one of the most widely respected and renowned Quebecers and Canadians with a distinguished career in many fields. He was a Professor at McGill University and Director of the Centre for French Canadian Studies, a Director of the daily newspaper Le Devoir, President of the International Centre for Human Rights and Democratic Development from 1990-1998, Quebec Delegate General in Paris, Secretary General of the Agence de la Francophonie. In addition, he has been a visiting Professor at York University, University of Moncton and Chancellor of the Universite Sainte-Anne in Nova Scotia.
Follow Jean-Louis Roy on Twitterand read his blog.
| | |
| --- | --- |
| Author(s) | Jean-Louis Roy |
| Translator(s) | Jonathan Burnham |
| Publication Date | 2013 |
| Page Count | 252 |
| ISBN | 978-088962-983-7 |
| Format / Dimensions | PB / 6" x 9" |
| Retail Price | $24.95 CAD, $24.95 USD, 17.95 Euros, 17.95 GBP |