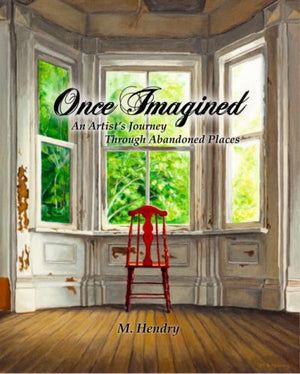 Michelle Hendry
Once Imagined - An Artist's Journey Through Abandoned Places
Have you ever wondered about that old empty house or abandoned ruin? Who lived there and why did they leave? If the walls could talk, what would they say?
If only you could look inside…
Once Imagined takes you inside some fascinating houses, hotels and ruins from around the Muskoka region, many off limits to most of the world – private locations such as Sparrow Beach Lodge and Cooper's Falls General Store. Gravenhurst is best known for it's steamships, but in the late 1800s it was the flashpoint for a very brief gold rush and the man who discovered the first nugget built a beautiful house that he would never live in.
Historical research and interviews with owners and past residents, many in their '80s and '90s, inspired the series of paintings accompanying this narrative tour through the history of each building.
The last several years have seen an explosion of urban and rural exploration. Michelle Hendry invites the reader on a unique journey with words and art, offering a glimpse into these forgotten places.
A vanishing rainstorm left a brisk, penetrating breeze in its wake. The brick house sat blind with its windows shattered or entirely absent, allowing the wind to wander through its rooms unrestrained. A gust moved a loose door, tapping and knocking on its broken jamb. The walls whispered and wailed as the air pushed through the lathe left exposed like an untended wound. The sharp roughness of peeling paint broke off in my hands and when the wind subsided, the house breathed its musty breath over me.

– excerpt from Once Imagined
Michelle Hendry, B.A., SCA, is an award winning artist, writer and designer, a member of the Society of Canadian Artists and a founding member of the Arts Council of Muskoka. She instructed at Georgian College in Design and was an entrepreneur in the field of graphic design for over a decade before turning to fine art full time. Michelle kept a blog beginning in 2007 recording her artistic journey and the search for history through art that became her book Once Imagined. Michelle has work in private collections in Canada, the U.S., and the UK.