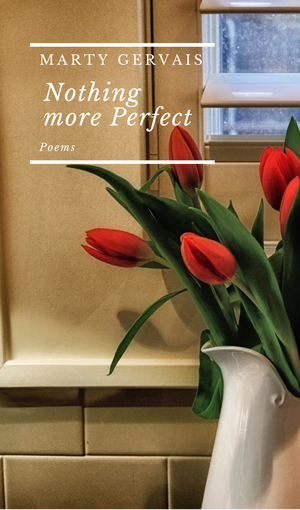 Marty Gervais
Nothing More Perfect | Marty Gervais
Early Access Special Pricing Available Now!
---
"This is a collection of poems not merely about reaching out to those about whom he has written, but about how they have reached out to him and touched him with the lives, their actions, their words, and above all their silences. If love is about the ability of two people to stand together on the summer dock of a northern lake or to sit together in the living room of their home or to worry about what will become of that person if death should intervene in their relationship, then this is a book of love poems. In these love poems, the poet is not attempting grand metaphor and clever turns of phrase but an expressed understanding of what it has meant to him to be with them. This is a book of poems about the purest form of gratitude. In that sense, there is nothing more perfect that the joy of knowing another with such intimacy, detail, and grace."
- Bruce Meyer | Editor, essayist, award winning poet and writer
The award-winning poet Marty Gervais looks no further than life as it unfolds around him. He sees poetry as "the history of the human heart," and it is there that he discovers the substance for these new poems where the writer wrestles with the universal questions age, illness, and even death but not without showing the reader the tremendous power devotion plays in the conduct of one's life. This eclectic mix of poems are about boxers and singers, monks and priests in the Andes, and about a brother finding a 'cure' for blindness. Other poems speak about what people know, or see, or where they have been, or what they think. The beauty of Gervais' voice resides in his ability to hear what others have said and to give thanks for the love that being with others has brought him.
Marty Gervais is a Canadian poet, photographer, journalist, and teacher. Gervais has also published plays, children's books, non-fiction and, a book of photography, A Show of Hands: Boxing on the Border (2004). In 1998, he won the prestigious Toronto's Harbourfront Festival Prize for his contributions to Canadian letters and to emerging writers. In 1996, he was awarded the Milton Acorn People's Poetry Award for his book, Tearing into A Summer Day. That book was awarded the City of Windsor Mayor's Award for literature. Gervais won this award again in 2003 for another collection, To Be Now: New and Selected Poems. Gervais has also been the recipient of 16 Western Ontario Newspaper Awards for journalism.
His first published novel, Reno, appeared in 2005 from Mosaic Press and was nominated for the International Three-Day Novel Writing contest. In 2006 Gervais and his work were the subject of a TV Bravo episode of the television series Heart of a Poet produced by Canadian filmmaker Maureen Judge.
Marty Gervais served as Windsor's first poet laureate for seven years, and now is poet laureate emeritus.
---
Marty's other book, A New Dress Every Day, can be purchased by clicking here.