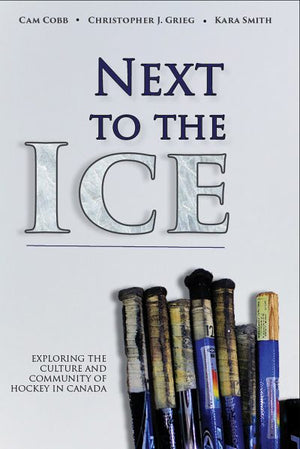 Cam Cobb, Christopher J. Greig, Kara Smith
Next to the Ice: Exploring the Culture and Community of Hockey in Canada
Next to the Ice shows that "The friends and families made in hockey are an indispensable part of every Canadian athlete's life in the game."
– Cassie Campbell-Pascall, Hockey Night in Canada commentator and Captain of 2 Olympic Gold Medal Winning Teams
"The key foundation for success and development for any hockey player is through their local hockey association via Hockey Canada and most importantly their family."
– Dr. Ken Gagner, DC, SCMC, BSc, BEd, CK, BHK, HP1 certified hockey coach
"I did not realize how lucky I was to grow up in small-town hockey with such a group of dedicated and talented teammates and coaches. Having a great minor hockey experience 'next to the ice' makes all the difference for players."
– Todd Warriner, CHL commentator and former NHL forward
"Fans like the ones in Next to the Ice have such a positive impact on players and teams. The atmosphere while playing at home with cheering fans can give you that extra boost on the ice, making the difference between winning and losing."
– Defenseman T.J. Brodie, #7 Calgary Flames
Next to the Ice is an intimate exploration into hockey communities and culture in Canada. With six well-written essays on timely themes, Next to the Ice provides readers with keen insights into key areas of elite and professional hockey including: fan culture, franchise drama, the rise of the hockey enforcer, and the off-ice politics of hockey parents. Three university educators, parents and ex-players bring the reader inside the world of 'rink rats', hockey families, and hard-core fans and collectors of Canada's favourite professional sport. Next to the Ice is a must-have book for hockey enthusiasts, fans, academics, or anyone interested in developing a better understanding of Canada in general.
Cam Cobb is a professor at the University of Windsor. He researches social justice, special education, and adult learning. Cobb's work has been published in the British Journal of Special Education, the International Journal of Inclusive Education, Per la filosofia, and Cinema: Philosophy and the Moving Image. He is an avid collector of the 'Jim Proudfoot player guidebooks.'
Christopher J. Greig is a professor at the University of Windsor in Education and Women's and Gender Studies. A historian of gender, Greig researches Canadian men, boys, and masculinities. His research has been published in Educational Review, the Brock Journal of Education, and the Alberta Journal of Educational Research. Greig is the co-editor of Canadian Men and Masculinities (2012) and author of Ontario Boys: Masculinity and the Idealized Boyhood in Postwar Ontario (2014). Greig's life-long interest in ice hockey started in the winter of 1969, at the age of four, when his father, Ted, built a back yard rink in London, Ontario.
Kara Smith is editor of Teaching, Learning Assessing(2007) and the author of The Mâlain Diaries (2015). She is an award-winning education professor; international writer-in-residence; former national player; and a frequent contributor to parent hockey culture and psychological development in Ontario.