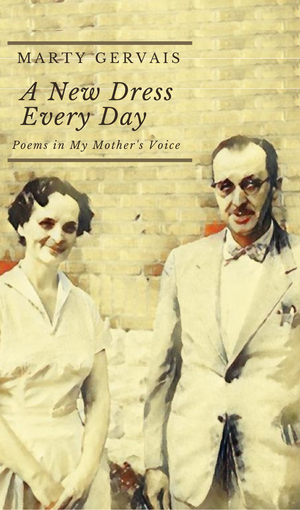 Marty Gervais
A New Dress Every Day: Poems in My Mother's Voice | Marty Gervais
Early Access Special Pricing Available Now!
---
Set in the late 1920s and 1930s, this is the story of teenage French-Canadian farm girls from Stoney Point and Pain Court and Grande Pointe packing up and moving to the city, to find work in Windsor or Detroit as house keepers and nannies for well-to-do families.
Marie Anne Mineau was one of those innocent young women whose life on the farm and the village is dominated by religion, and all its expectations and superstitions. She speaks of ghosts in the fields, and haunting the farmhouse, of weddings and lavish picnics in a black Walnut grove back the barn, of collecting eggs and doing chores, of a sister running off to be married, and Marie Anne's own wedding, at barely 19 years old, and driving through the night to Niagara Falls with a man she hardly knew.
The poems, written by Windsor's Marty Gervais, are cast in the voice of his own mother who shared all these stories of him. It is a picture of a time and place now lost to history, but it was one that vividly captures the story of hundreds of young women who left rural Canada for good paying jobs away in the city.
Marty Gervais is a Canadian poet, photographer, journalist, and teacher. Gervais has also published plays, children's books, non-fiction and, a book of photography, A Show of Hands: Boxing on the Border (2004). In 1998, he won the prestigious Toronto's Harbourfront Festival Prize for his contributions to Canadian letters and to emerging writers. In 1996, he was awarded the Milton Acorn People's Poetry Award for his book, Tearing into A Summer Day. That book was awarded the City of Windsor Mayor's Award for literature. Gervais won this award again in 2003 for another collection, To Be Now: New and Selected Poems. Gervais has also been the recipient of 16 Western Ontario Newspaper Awards for journalism.
His first published novel, Reno, appeared in 2005 from Mosaic Press and was nominated for the International Three-Day Novel Writing contest. In 2006 Gervais and his work were the subject of a TV Bravo episode of the television series Heart of a Poet produced by Canadian filmmaker Maureen Judge.
Marty Gervais served as Windsor's first Poet Laureate for seven years, and now is poet laureate emeritus.
---
Marty's other book, 
Nothing More Perfect, 
can be purchased by clicking
here
.