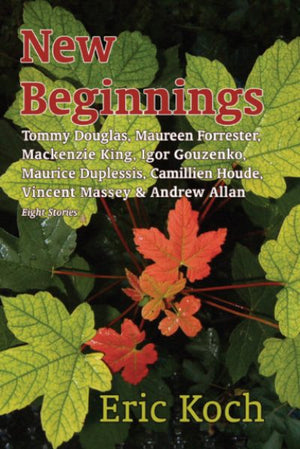 Eric Koch
New Beginnings: Vincent Massey, Mackenzie King, Tommy Douglas, Igor Gouzenko, Maurice Duplessis, Allan Monk, Camillien Houde
"[Koch's] imaginative agility, inventiveness and stylish wit have enabled him to create original and highly entertaining works."
– Oxford Companion of Canadian Literature
New Beginnings is the sequel to Eric Koch s landmark work The Golden Years: Glenn Gould, Marshall McLuhan, Lester B. Pearson, Rene Levesque & John G. Diefenbaker, published by Mosaic Press in 2013. Once again, Koch is inventing a new literary form that is special and astonishing, crafting five intimate stories of six fascinating and important figures in Canadian history. New Beginnings focuses on key characters in the history of post-World War II Canada; Tommy Douglas, Igor Gouzenko, Maurice Duplessis, Mackenzie King, Vincent Massey, and Allan Monk. Koch captures the very essence of these figures through brief and poignant fictional anecdotes. Fascinating, insightful, and informed, these stories appeal to anybody who wants a new take on our Canadian history and its array of characters.
Eric Koch is Canada's premier historical fiction author whose works have now been translated into German, Italian, and Chinese. He is the author of seven works of fiction and numerous nonfiction works. He lives in Toronto, Canada.
For more information on Eric Koch, visit his blog for regular insightful posts.