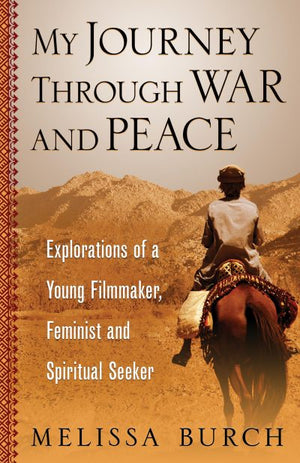 Melissa Burch
My Journey Through War and Peace
"An absorbing, well-written memoir by a brave adventurer who discovered her own life."
– Kirkus Reviews
"Burch's honest reflections on her work, difficult relationship with her alcoholic mother, sexual encounters, self-doubt, fears, and path to peace and happiness make the book thought-provoking and compelling."
— Publishers Weekly
"A poignant and informative feminist memoir that spans world landscapes, wars, and spiritual quests."
– Foreword
My Journey Through War and Peace: Explorations of a Young Filmmaker, Feminist and Spiritual Seeker is based on Melissa Burch's experiences as a war journalist for BBC, CBS, and other networks. Her team was one of the first documentary crews allowed in the Soviet Union at the height of the Cold War, and she was featured in a New York Timesstory about her time in Afghanistan. She was just in her twenties when she traveled with the moujahedeen, filmed an attack on a Soviet convoy, slept with an Afghan commander, and climbed 14,000-foot mountains in the Hindu Kush.
My Journey Through War and Peace examines how, through outward action and inward exploration, life can unfold in mysterious ways, far beyond cultural and family expectations. In looking back at this momentous decade, Burch shares why she pursued such dangerous and difficult circumstances at such a young age and continued to live on the edge. She now understands that she was seeking self-discovery, a connection to something greater, and ultimately inner peace.
This exciting memoir will resonate with fans of Eat, Pray, Love, Wild, and other popular memoirs that describe extraordinary inner and outer journeys.
Melissa Burch has worked as a filmmaker for CBS and the BBC, was featured in The New York Times, produced a national public television series, co-hosted a radio show on Voice America, and has been a spiritual seeker for over thirty years. She was the executive producer of "Women in Limbo Presents," a national public television series about women's lives, and served as president of the New York Film/Video Council. Her book, The Four Methods of Journal Writing: Finding Yourself Through Memoir, was a #1 Amazon bestseller and is still in the top 10 in its category. She is also a homeopath, co-founded the Catalyst School of Homeopathy, and produced and hosted one of the first successful radio shows on Voice America on homeopathy.