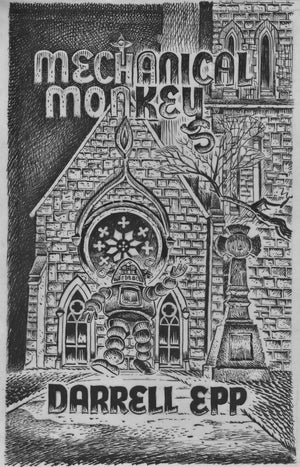 Darrell Epp
Mechanical Monkeys - Darrell Epp
---
A new collection of poems from Darrell Epp. His previous two collections of poems, After Hours, ( 2016, Second revised printing 2017 ) and Sinners Dance( 2018 ), both published by Mosaic Press received very wide critical acclaim.
Darrell Epp is now established as one of the most original voices on the poetry scene! His readership is rapidly expanding with seventeen 5 star reviews on Amazon US and Amazon Canada. His poetry has been published on 6 continents in over 100 magazines, including Poetry Ireland, Queen's Quarterly, Exile, Rhino, Grain, The Fiddlehead, Dalhousie Review, Prairie Fire., Maissonneuve, Sub-Terrrain, The Saranac Review. He is also the Winner of the City of Hamilton's Literary Award and has been invited to read in over fifty venues in Canada, the UK and the USA.
"Lucid , raw and honest poems refrain that slide with grace and wit from the particular to the general, from past to present and back again, authentic and absorbing."
Rudy Wurlitzer, novelist and screenwriter ( Pat Garret and Billy the Kid and Little Buddha ).
"A fun, sly jumble of poems that often tackle weighty issues..."
- Jonathan Ball, Winnipeg Free Press
" If you ever get caught in the subway between stations, try to sit beside a guy like the guy who wrote these poems."
- David Gilmour, novelist (The Film Club, Back on Tuesday ).
"I enjoyed these poems immensely!"
- William Peter Blatty, author of The Exorcist
"The best poems in Darrell Epp's After Hours remind you of the first time you got stoned. The first time you felt danger. You know how you felt the first time the veil came down. The first time you saw behind the wizard's screen. Welcome to a new Oz!"
-Michael Dennis, author of Bad Engine and Low Centre of Gravity
"...a gripping collection that tours readers through the seedy underbelly of Hamilton, Ontario and into the unconscious of the disenfranchised. Epp explores the unexpected graces that may rain down on us unawares...n his patron sainyt of the underachievers I think he has achieved something quite wonderful."
- Canadian Literature
---
Poems Pub. Date: June 2021 Available at your local bookseller or order from Mosaic Press /IPG(US)/ Gazelle Book Services(UK/EU) /Manda Group(Canada) 6X9 inches | 128 pages Price: $21.95 CDN $17.95 USD ISBN PB: 9781771615525 | PDF: 9781771615532 | EPUB: 9781771615549 | KINDLE: 9781771615556