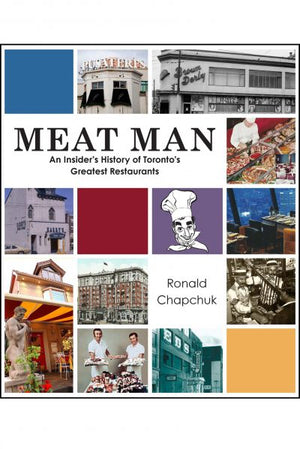 Ronald Chapchuk
Meat Man - An Insider's History of Toronto's Greatest Restaurants
Meat Man: An Insider's History of Toronto's Greatest Restaurants is a one-of-a-kind look at Toronto's legendary restaurants, steakhouses and hotels from one of the city's premier meat suppliers. Chronicling the culinary history of the city's top eateries from 1950 to 2000, Meat Man includes thoughtful and entertaining memories, anecdotes and reminiscences that are both insightful and entirely unique. Including chapters on the city's best delis, steakhouses, high-end pubs and early Chinatown, Meat Man also contains detailed sections on the "Jewels" and "Gems" of over four decades of dining out in the city.
Written by one of the premier meat suppliers to the city's best restaurants, Ronald Chapchuk also adds special stories about some of Toronto's notable characters such as Ed Mirvish, Harry Barberian and Harold Ballard that makes Meat Man an exceptional perspective into over four decades of Toronto's restaurant history.
Ronald Chapchuk has been one the major meat suppliers to Toronto's top restaurants, hotels and steakhouses for over forty years. Working with the city's top chefs and restaurateurs, Chapchuk is a staple of the culinary community in Toronto and his work in the beef industry spans over four decades. Born and raised in Toronto, Chapchuk now lives in Oakville, Ontario.