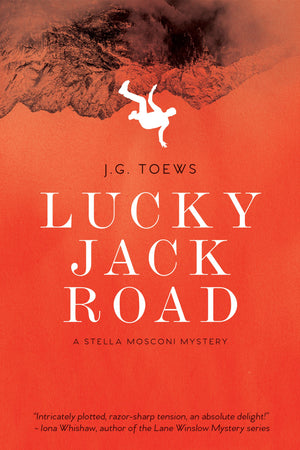 J.G. Toews
Lucky Jack Road - JG Toews
"Intricately plotted, razor-sharp tension, an absolute delight!" – Iona Whishaw, author of the Lane Winslow Mystery series

"Toews has a nice eye for details that give charm
to the B.C. outback." – The Globe & Mail (Reviewing Give Out Creek)

When Stella Mosconi left the small mountain city of Nelson, B.C. straight out of high school, she hoped she had seen the last of Jack Ballard. A teenage fling between the two ended with a scary incident that left a fear that still lingers some twenty years later when Stella returns to her hometown. Now settled with her family and hitting her stride as a reporter for the local paper, Stella has been flying under Ballard's radar. But once her cover is blown, the former pro mountain biker, an icon in Nelson, won't give her any peace.

Then on the morning after celebrating his fortieth birthday with a big party, Ballard is found dead, his body discovered beneath the lookout of a popular hiking trail. Stella doesn't believe the former elite athlete would simply have stumbled over the edge. Too many circumstances surrounding the incident seem off-kilter. A teenager Stella once helped put into youth custody had shown up uninvited at Ballard's party. The witness who found his body is building a shrine to him. And Ballard's pregnant fiancée – hostile to Stella from the start – is going after her with a vengeance now that he's gone.

Once again, the intrepid reporter teams up with Sergeant Ben McKean to dig into the case while the pair try to skirt a mutual attraction. Grasping at leads, Ben isn't even certain a crime has been committed. But Stella is ready to put
everything on the line to unravel the enigma that was Jack Ballard.

Lucky Jack Road is the sequel to Give Out Creek, a finalist for the 2019 Lefty Award for Best Debut Mystery Novel.

JG Toews lives in Nelson, British Columbia, the outdoorsy mountain town that inspires the setting for her Stella Mosconi mysteries. She is a former columnist, technical writer, and non-fiction author whose background in health sciences got her hooked on forensics. Her first book in the Stella Mosconi series, Give Out Creek, was published in 2018.