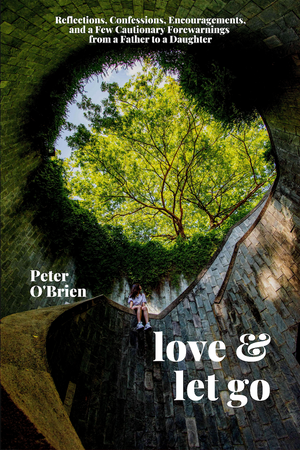 Peter O'Brien
Love & Let Go
Early Access available now at a discounted rate for Friends & Family!
Reflections, Confessions, Encouragements, and a Few Cautionary Forewarnings from a Father to a Daughter
What are the right words to use ... when someone we love leaves home for school, a new job, or for extended travel? How to compress so many memories, feelings, and emotions? When do words of advice, counsel, or wisdom work best?
Love & Let Go sets out to achieve this impossible task – and succeeds! The author's daughter is about to leave home to continue her education. In thirty-five brief chapters, he offers reflections, encouragements, words of love and support, and more. 
This book is a totally honest, intimate, and wonderfully literary reflection of the author's own experiences and responses. It can be read privately, read aloud between parent and child, or shared with friends ... or just to appreciate lifelong familial bonds.
"Filled with love and understanding. I heartily recommend this book for parents, and for all young adults heading out on their own."
-
Dr. Ruth,
author of 45 books
, 
including
Dr. Ruth Talks to Kids
and
Dr. Ruth's Guide to College Life
"Love & Let Go is a beautiful gift. Caregivers at all stages will appreciate the special moments between parent and child. The book reminds me that it is worth taking the time to slow down and reflect, so that we can provide a legacy and lessons for the people we care about the most – our children."
-Zoe Share, CEO of DaddysDigest.com
 "Intended for the child who is leaving the nest, I see Love & Let Go as wisdom of the ages for the parent. It's a soothing balm for the soul of the one who must let go."
- Rev. Bob Shantz, author of Windows on Our Souls: A Spiritual Excavation
"Charming. Endearing. Helpful. As a proud parent, I encourage you to buy this book. There is lots of loving insight here."
- Chris Osgood, 17-year NHL goalie and winner of three Stanley Cups with the Detroit Red Wings
Peter O'Brien is the author or editor of eight previous books, including Cleopatra at the Breakfast Table: Why I Studied Latin With My Teenager and How I Discovered the Daughterland and A Perfect Offering: Personal Stories of Trauma and Transformation (Mosaic Press, 2020). His writing skills and unique perspectives have been widely praised.

Peter O'Brien was born in New York. His father died when he was still an infant. He has nine brothers and sisters, and twelve step-brothers and -sisters. He received his BA from Notre Dame and his MA from McGill. He has worked as a roughneck on oil rigs, as an environmental entrepreneur, and in fundraising. He lives in Toronto, where he is the Director of Marketing, Communications, and Development for The Glenn Gould Foundation. He has one daughter.
Pub. Date: March 19th 2022
Available at your local bookseller or order from Mosaic Press /IPG(US)/ Gazelle Book Services(UK/EU) / Manda Group(Canada)
140 pages with 35 illustrations
Price: $24.95 CDN $19.95 USD