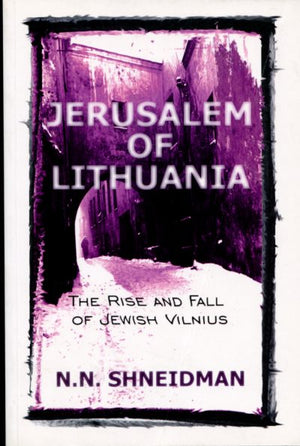 Noah N. Shneidman
Jerusalem of Lithuania : The Rise of Fall of Jewish Vilnius
Jerusalem of Lithuania: The Rise and Fall of Jewish Vilnius relates the story of growth and success, as well as devastation and annihilation, of a thriving Jewish community. It is an incredible account of personal survival placed within of the history of the city, and its Jewish population. It combines historical data, academic analysis, and autobiographical material, based on reminiscences and memoirs written during the war.
Since the middle ages, Vilna (Vilnius, Wilno) or as it is called Jerusalem of Lithuania, was one of the main centres of Jewish cultural, religious, social and political activity in the diaspora. At one time half of all the city inhabitants weer Jewish. Today the Jewish community of Vilnius is a faint shadow of its glorious past. No more than 4,000 Jews or less than one percent of its total population, remain in the city. Most of the former residents of Vilnius were murdered during the Holocaust and many of those who managed to survive moved to Israel, or other western countries.
Noah N. Shneidman is a Professor Emeritus and of the Graduate Centre for Russian and East European Studies, University of Toronto, where he was Professor from 1969 to 1990. He is the author of six books, chapters of books and many articles.