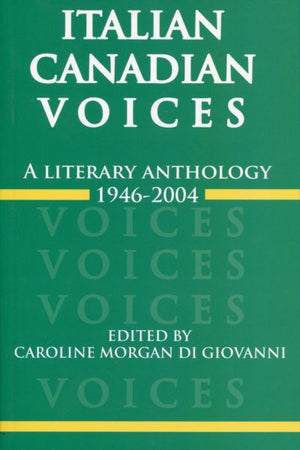 Caroline Morgan DiGiovanni
Italian Canadian Voices: A Literary Anthology, 1946-2004
"This book is timely…This is literature no longer confined to the incertitude of cultural dislocation …The decision of these Italians to write in English has been courageous and rewarding…"
– Kingston Whig-Standard
"This is one of the most important literary publications of 1984."
– Versa
In the years since that anthology was published, a new and fresh generation of Italian Canadian writers have emerged and have left a further, indelible mark on Canadian literature. Many of the new 'names' have won major prizes, both nationally and internationally, and have become the new 'stars' of Canadian and international literature. It is time for a new selection and a new anthology!
This revised volume of Italian Canadian Voices includes short stories, excerpts from longer prose works, and poetry. It covers the 'first voices' of Italian Canadian literature, the familiar and well-established voices and, to the credit of the Editor, there are a significant number of new 'voices' represented in this volume. In this new Italian Canadian Voices you will find Pier Giorgio Di Cicco, Nino Ricci, George Amabile, Mary Di Michele, Len Gasparini, Alexandre Amprimoz, Caterina Edwards, Darlene Madott, Antonino Mazza, Carmine Starnino, Joseph Maviglia and many others. Each writer has already or is the process of leaving his or her unique voice and signature on the evolution of Canadian and international literature.
In 1983, Caroline Morgan DiGiovanni broke new ground in Canadian literature when she edited the anthology Italian Canadian Voices, An Anthology of Poetry and Prose (1946-1983). Since its publication, this book has proven its value to students, teachers, and general readers.