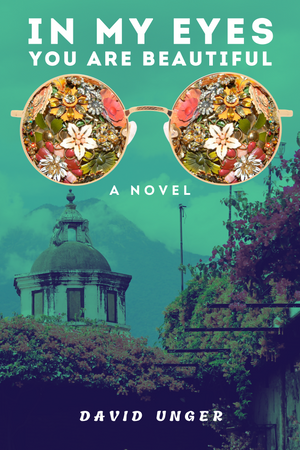 David Unger
In My Eyes, You Are Beautiful
Early Access  Discounted Copies Available Now!
An important publication in English, finally, after three previous publications in Spanish as Para mi, eres divina, (Random House Mondadori, Mexico, 2012, Editorial Cultura, Guatamala, 2014, & Storytel audio, 2018). David Unger is one of the most widely published and renowned authors of fiction, short stories, articles, translations, children's books, bridging the world of English and Spanish creative writing. He was honored with Guatemala's Miguel Angel Asturias' National Literature Prize for Lifetime Achievement, 2014. Born in Guatemala, his family emigrated to the U.S. when he was a child but he spent his summers in his birthplace; this may explain why his literary career explores the tensions, character and texture of Central America as few other writers have done.
In My Eyes, You Are Beautiful is a coming-of-age novel, that narrates the life of an Indigenous young woman. It depicts the transformation of Olivia Padilla Xuc, an illiterate six-year-old picking coffee in the Guatemalan countryside as she becomes a liberated, powerful woman working in Mexico City. Through Olivia's deeply moving narrative, we explore the possibility of change and growth of an indigenous woman as she delves into issues of racism, economic opportunity and self-worth – the vital themes that first nation people confront globally while they try to better themselves in societies convinced of their worthlessness. Against an historical period of armed conflict, turmoil and conflict, Olivia Padilla is funny, intense, imaginative, alternately serious and playful. Her courage allows her to explore her sexuality in Guatemala, Mexico, Cuba and Italy as she builds a satisfying, independent life few people could have considered possible.
"David Unger has created an unforgettable female protagonist. … Olivia is shy, but strong: unattractive but sensual; she feels guilt, but is angry at her family for abandoning her. She wants to love and be love, to be made of flesh and blood; we identify with her through the author's natural, fluid prose, which also has some startling images."

- Monica Lavin, El Universal, Mexico City
Fiction
Pub Date: July 2023
Available at your local bookseller or order from
Mosaic Press / IPG (US) /Gazelle Book Services (UK/EU) /
Manda Group (Canada)
6 X 9 inches
230 Pages
Price: $22.95 USD $25.95 CDN
ISBN PB: 9781771617161
PDF: 9781771617178
EPUB: 9781771617185
MOBI: 9781771617192