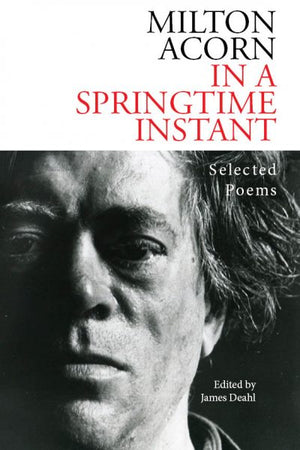 James Deahl
In A Springtime Instant : The Selected Poems of Milton Acorn
Milton Acorn remains one of the most important Canadian poets of the 20th century. Now in a revised second printing, In A Springtime Instant: The Selected Poems of Milton Acorn solidifies Acorn's reputation and confirms his place in Canadian literature. As Editor James Deahl asserts in his Introduction, "Milton Acorn's poetry stands among the most challenging work produced during the last half of the twentieth century. His ability to see connections between a strange assortment of things is striking. And the reader is called up to be as agile as the poet in jumping from one idea to another." With In A Springtime Instant: The Selected Poems of Milton Acorn the reader will discover and appreciate all the diversity, passion, variety, contradictions that swept through Acorn's life and his poetry.
Milton Acorn was awarded an honorary Doctor of Laws degree from the University of Prince Edward Island at the same time as the Rt. Hon. John Diefenbaker, former Prime Minister of Canada, received his. Nicknamed 'The People's Poet' by his peers, Acorn was awarded the Canadian Poets Award in 1970 and the Governor General's Award in 1976. He died in 1986, the same year he was named Life member of the Canadian Poetry Association.
This volume has been masterly arranged and edited by James Deahl, Acorn's long-time friend, an accomplished poet, essayist and publisher in his own right.