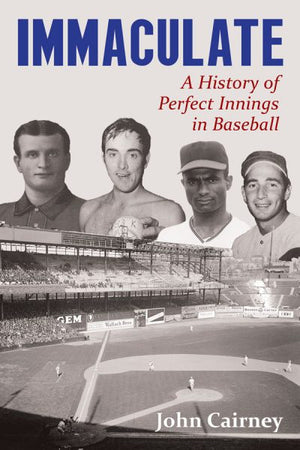 John Cairney
Immaculate - A History of Perfect Innings in Baseball
"John's book…isn't just a dry reminder of an occasional statistical anomaly but a wonderful tour into the lives of those who threw them, and the circumstances in which they entered one of the record book's most seldom branched pockets of fascination."
– William Humber, Diamonds of the North: A Concise History of Baseball
Getting three batters out in order on nine pitches is one of the most remarkable feats in baseball. Since the late 1800s, only 73 pitchers have been able to do it. Yet, unlike other rare achievements in baseball, such as pitching a perfect game, the "immaculate inning" does not capture the same attention or consideration. In a game that is as unpredictable as baseball, perfection, when it occurs, should be cause for both reflection and celebration.
In Immaculate, Cairney provides a short history of perfect innings through the stories of the pitchers who pitched them. Beginning with a brief overview of the numbers, the remaining chapters, one for each immaculate inning on record in major baseball, provides insight into the men, their careers and details of the inning itself, from the first recorded perfect inning in 1889 to the most recent string of innings last MLB season in 2014. The names include pitching greats such as Jim Bunning, Sandy Koufax, Nolan Ryan and Randy Johnson, but also many lesser known, if not colorful, pitchers like "Sloppy" Thurston and Bill Wilson. The teams include famous franchises like the Detroit Tigers and the New York Yankees, but also clubs now defunct like the Boston Beaneaters and the Montreal Expos. Using immaculate innings as benchmarks, the book provides an engaging and entertaining journey through the history of professional baseball that will delight both the serious student of the game, as well as the fan who enjoys reading about the game.
John Cairney is a Professor in the Departments of Family Medicine, Psychiatry and Behavioural Neurosciences, and Kinesiology at the McMaster University. An accomplished scientist, he holds an endowed chair in child health, is currently the Director of the Infant and Child Health (INCH) Research Lab at McMaster, and President of the Canadian Academy of Psychiatric Epidemiology (CAPE). Professor Cairney has edited and wrote two books, over 150 journal articles and book chapters, and is the Editor-and-Chief of Current Developmental Disorders Review. A longtime baseball fan and season-ticket holder with the Buffalo Bisons, John is also a member of the Society for American Baseball Research.
Follow John Cairney on Twitter.
Read about origins of the book and a feature on John Cairney in the Hamilton Spectator.