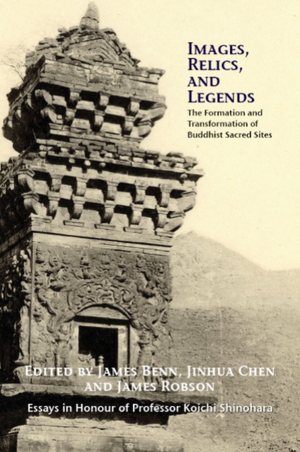 James Benn, James Robson, Jinhua Chen
Images, Relics and Legends : The Formation and Transformation of Buddhist Sacred Sites
Images, Relics and Legends is a major collection of important essays by many of the leading scholars in the field of Buddhism, including Phyllis Granoff from Yale University, T.H.Barrett from the University of London, Raoul Birnbaum from University of California, Toru Funayama from Kyoto University, Eugene Wang from Harvard University and others. The spread of Buddhism in Asia may be viewed from one perspective as a protracted and complex process in which numerous sacred sites were continually created and recreated in different parts of Asia. The story of Buddhism increasingly penetrating into all levels of society in Asia is mirrored by another narrative in which some of the most sacred sites in India were reproduced in other parts of the world. This reproduction or doubling was, however, never a simple matter of transplantation; rather it involved complex cultural adjustments and inventions. The study of Buddhist sacred sites in South and East Asia, therefore, yields some revealing new perspectives on the cross-cultural issues created by the "Buddhist conquest of Asia." The volume sheds new light on issues such as pilgrimage; the development of Buddhist monasticism; the remembrance of Buddhist saints and patriarchs; Buddhist sacred sites and more, and deepens our understanding of the Buddhist tradition. The volume contains thirteen original articles plus a preface and full bibliography. The volume is a Festschrift in honor of Professor Koichi Shinohara of Yale University.
James Benn is Associate Professor of Buddhism and East Asian Religions at McMaster University. His main area of research is Buddhism and Taoism in Medieval China including physical and material aspects of religious practice, relics, self-immolation, tea, and apocrypha.
Jinhua Chen is Associate Professor of East Asian Buddhism at the University of British Columbia. His research covers monastic historiography and biography, and the state-church relationship in medieval China and Heian Buddhism.
James Robson is Associate Professor of East Asian Languages and Civilizations at Harvard University. He specializes in the history of Medieval Chinese Buddhism and Daoism and is particularly interested in issues of sacred geography, local religious history, talismans, and the historical development of Chan/Zen Buddhism.