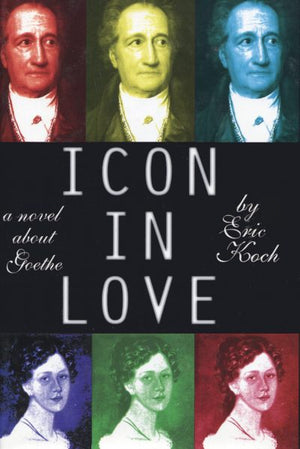 Eric Koch
Icon in Love : A Novel about Goethe
"[Koch's] imaginative agility, inventiveness and stylish wit have enabled him to create original and highly entertaining works."
– Oxford Companion of Canadian Literature
Eric Koch's Icon in Love is an audacious novel about the "icon" of German literature. Goethe is reinvented as a poet of the 20th century, awarded the Nobel Prize for Literature in 1992. At the age of 73, the revered poet is now certain that love is what it takes to complete his long-awaited Faust, Part Two. He finds this love in a 19-year-old student, who persuades him to accept the prize despite his lack of interest. Soon after his arrival in Stockholm, Goethe finds himself unraveling the mystery behind the murder of one of the laureates. Drawing heavily on the facts of Goethe's life, this mystery is best suited to academic collections and those already familiar with Goethe's life and work. But although scholars may require less effort to fathom Koch's portrayal of Goethe, any reader can learn much here about the complexity of Goethe's genius, thanks to Koch's simple and eloquent writing.
Eric Koch is Canada's premier historical fiction author whose works have now been translated into German, Italian, and Chinese. He is the author of seven works of fiction and numerous nonfiction works. He lives in Toronto, Canada.
For more information on Eric Koch, visit his blog for regular insightful posts.