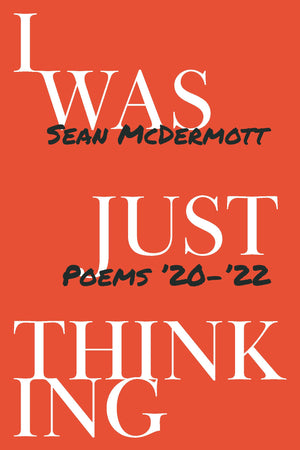 Sean McDermott
I Was Just Thinking
An important collection by a superb talent reflecting the poet's world during the lockdown/Pandemic 
"During my solitude, I have taken a deep dive into personal history and common emotion. The poems deal with my thoughts on relationships, alcoholism, illness, music and escapism into memories and fantasy. The work is wrapped in a protective layer of reality and optimism....
This is my first collection of poems, each one surrounding a single realization of a visual truth in action. The poems cascade outward in reckless examination of a moment, a memory, and then retreat toward resolution."
Sean McDermott
"Sean's poetry makes you want to lock the doors, draw the curtains, curl up and draw yourself into the universe between your ears. But really, is that not what poetry is for?"
David Berlin, co-founder and first editor Walrus Magazine, former owner and editor of Literary Review of Canada, author of over 100 articles.
"Billie Holiday once said that music should transport you to the horizon. No surprise that Sean McDermott is an accomplished singer and songwriter, and of the bad-boy rock variety too, because his poems, lyrical and transporting, angry, beautiful and beguiling, frequently take us beyond the horizon to another country, and the largely unpaid debt to the past that we as humans share.
The crispness of small bare feet in fresh-baked sand, whisper of the sea, warmth of a lover's hand - or the regret of its absence - are just a few of the immersive memories awakened in all the senses with a gentle and familiar stab to the chest, as evoked by Sean's deeply honest writing.
If it's true what they say about our entire lives flashing before our eyes at the moment of death, one can only hope it is as beautifully and judiciously balanced on the tightrope between happy and sad as these vignettes."
David Diebold, Journalist and Author, Dublin, Ireland.
On reading Sean McDermott's poems:
"...found myself wandering through Sean's mind, down corridors. Then a sharp turn to another corridor like the dream-tourist...I felt at moments I was at the spark, the beginning of the image in words he was cognizing...Fascinating view points left me thinking and seeing through his eyes."
Ken Tobias, legendary Canadian songwriter, singer and recording artist.
"A reader of McDermott's poetry  discovers a deep sense of humanity, sensitive imagination and unusual creativity. He writes with an unusual  fluency and highly original use of language that reminds one of the mature Dylan Thomas.  McDermott offers a fresh and original body of writing to the Canadian poetic context that includes acute personal observation, striking depths of angst, often humourous treatment of love and romance, and frequently  a discerning though never cynical eye on present day assumptions. If it is true that Canadians have one of the highest relative poetry readerships in the world then our multitude of eager readers are in for a delightful new poetic experience. "

Dr Ian Winchester, Editor of JET magazine and former Dean of the U of Calgary.